This post may contain affiliate links. Please read my disclosure.
These healthy vegan black bean burgers are protein packed and perfect for summer cookouts and barbecues! Easy substitutes make the patties both vegan and gluten-free, and the creamy, delicious tahini sauce makes this the ultimate veggie burger!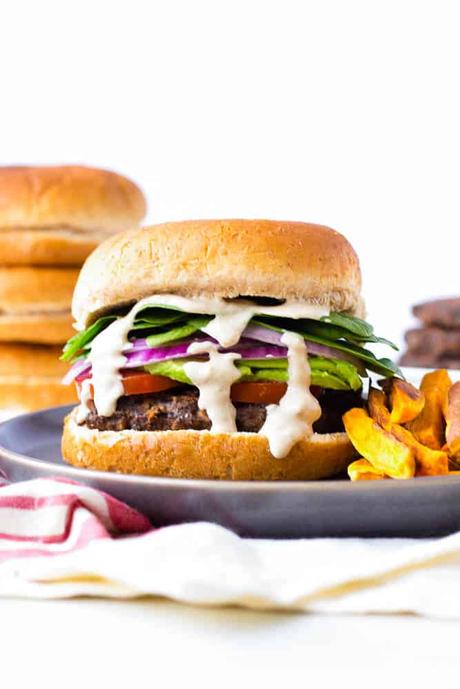 It's always hard to find a healthy veggie burger recipe that holds together well and has great flavor - because most veggie burgers just fall apart on the grill! These vegan black bean burgers are the exception: super meaty, hearty and slightly spicy, they will satisfy both vegetarians, vegans, and meat eaters alike.
I found the original recipe on Ambitious Kitchen, and modified it slightly to make it a little healthier. We also served these burgers with homemade sweet potato fries on the side which was the perfect pairing! You guys are going to love these healthy bean burgers, I'm sure you'll make them several times over the summer!
How to make Vegan Black Bean Burgers with Tahini Sauce - step by step
Mix flaxseed meal and water in a small bowl and place in the fridge for 5 minutes.
Place a large pan over medium heat and add 1 teaspoon of olive oil. Once oil is hot, add in onion, garlic and carrot; saute for 5 minutes or until onions are translucent and carrots begin to soften a bit. Transfer to a large bowl and stir in the spices: cumin, garlic powder, chili powder, paprika, salt and pepper.
Using a food processor or high powered blender, blend black beans until well blended and just a few bean chunks remain. Transfer to the bowl with the veggies and then stir in the flax egg and the oat flour. Taste, adjust seasonings and add additional salt and pepper if necessary.
Divide mixture into 4 patties. Put on a plate and cover with plastic wrap, place in the fridge for 10-15 minutes.
While the burgers are in the fridge firming up, make the garlic tahini sauce by mixing together the following in a small bowl: tahini, garlic, lemon juice, water and salt.
After 30 minutes, place a large skillet pan over medium heat and generously spray the pan with nonstick cooking spray. Add the patties and cook 4-5 minutes on each side, or until golden brown and heated through.
Place on buns with tomato, avocado, red onion and tahini sauce. Serve with sweet potato fries or a salad. Makes 4 burgers.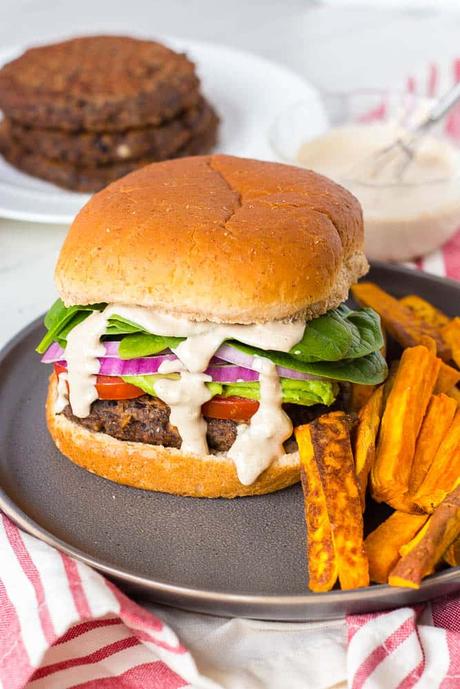 Ultimate Veggie Burger Recipe
This simple black bean burger has become a favorite in our house. It's so easy to make yet jam packed full of flavor. It's slightly spiced with paprika, chili and cumin but remains kid -friendly. It feels like a real treat, but a fully made burger (bun included!) comes in under 450 calories!
What do you put on a black bean burger?
As you can see, these vegan burgers are loaded with fresh toppings - avocado (or guacamole), red onion, spinach and tomato make for a really tasty bite! The tahini sauce is a great healthy swap for the usual (less healthy) mayonnaise and really pulls the burger together. Feel free to add your favorite toppings!
What is tahini?
Tahini is a condiment that is made from sesame seeds and is used in Middle Eastern and North African cuisines. It is rich in protein and a great source of vitamins B and E as well as iron and calcium. I love it in so many dishes!
Are veggie burgers kid friendly?
Kids can choose their own toppings making it a fun, interactive meal
This particular recipe is super flavorful without being spicy or too strong for little kids' palates
Kids can dip their burgers in a variety of "sauces" - for this burger we used guacamole and tahini, but feel free to mix it up with BBQ sauce, ketchup or any other favorite condiments that your kids will love!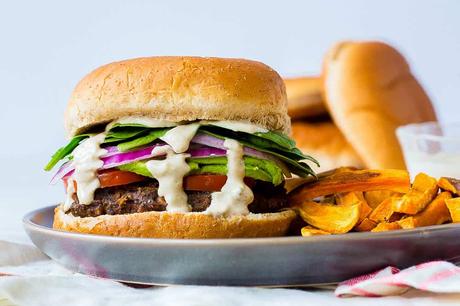 Be sure to let the patties sit in the fridge to allow them to come together.
To freeze the patties, do it before cooking and separate them with parchment. Thaw before cooking them.
Serve with sprouted wheat buns. To make gluten free, just use gluten free burger buns.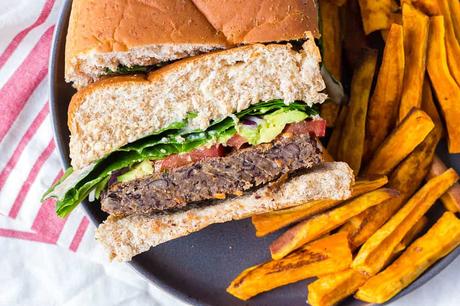 If you have tried this vegan black bean burger recipe, or any other recipe on my blog, then please rate it and let me know how it turned out in the comments below! You can also FOLLOW ME on FACEBOOK, TWITTER, INSTAGRAM and PINTEREST to see more delicious, healthy, family friendly food!
Veggie burgers can be super kid friendly for a few reasons:
Top tips for making Vegan Black Bean Burgers with Tahini Sauce
Check out these other healthy burger recipes!
Vegan Black Bean Burgers with Tahini Sauce