This post may contain affiliate links. Please read my disclosure.
This incredible Vegan Aioli is going to be your new go-to sauce. It's paired with mushroom nuggets that have been coated in breadcrumbs and garlic and then baked to perfection. This homemade aioli sauce has a rich and delicious flavor.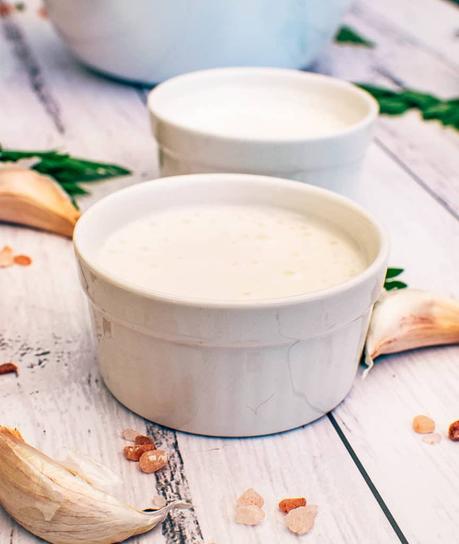 You guys! I can't wait for you to taste this vegan aioli!
It's rich, creamy, and has your name all over it. When it comes to condiments, I am certain this aioli is bound to be a new favorite of yours.
Not only can you dip these amazing homemade nuggets made with white cap mushrooms into it, but you can also use it for fry sauce, sandwiches, potatoes, veggies, and more. You can't go wrong with this sauce, and it's quickly become one of my new favorite recipes.
Once you taste how creamy it is, I know you'll put this recipe on your list of favorites!
Tools and Equipment You'll Need
Recipe Ingredients and Notes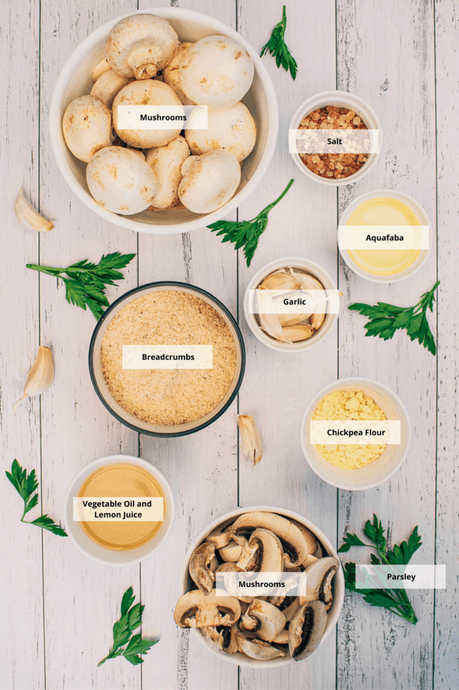 Aquafaba: What is aquafaba? It's just the leftover liquid from cooked chickpeas! While you can use the leftover cooking liquid from cooking chickpeas on your own, it's not as reliable as the liquid from a can of chickpeas. So I always recommend reserving the liquid from a can of chickpeas and using that when a recipe calls for aquafaba!
Garlic, Lemon Juice, and Salt: Critical for seasoning! Don't leave this out, and use more to taste as needed!
Vegetable Oil: Helps to emulsify the sauce and make it nice and creamy. You need a mild flavored oil that won't change the flavor of the sauce.
How to Make Mushroom Nuggets with Vegan Aioli - Step by Step
For the nuggets
Make the Chickpea Breading: Combine the chickpea flour, salt, parsley, and minced garlic in a shallow bowl. Coat each mushroom in the chickpea flour mixture.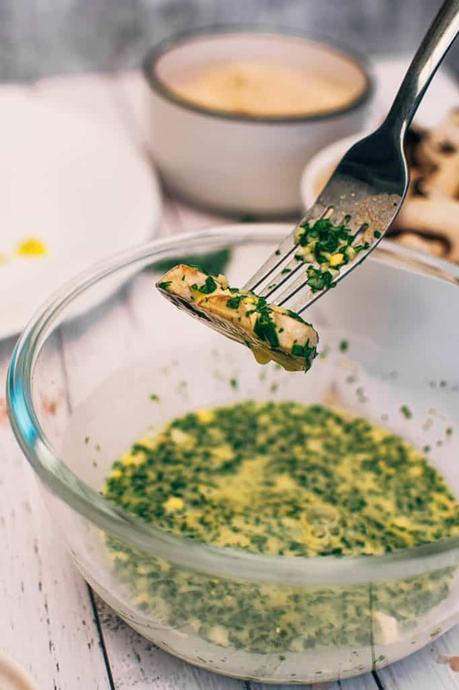 Coat the Mushrooms: Coat each mushroom in breadcrumbs or panko.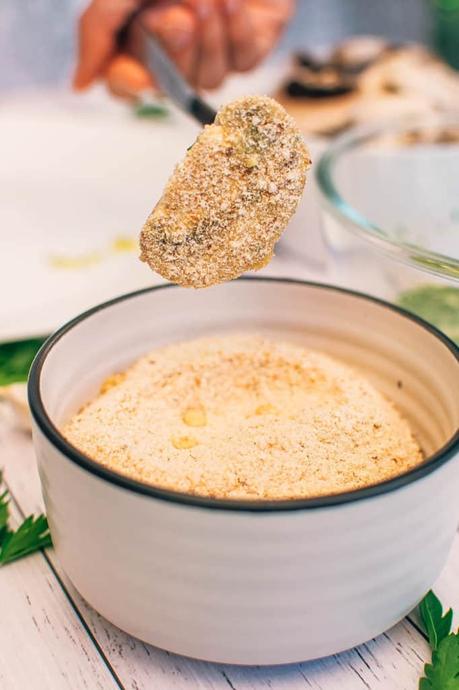 Bake the Mushroom Nuggets: Place them on a baking sheet sprayed with cooking oil and then spray a little bit more cooking spray on the top-Bake for about 25 min.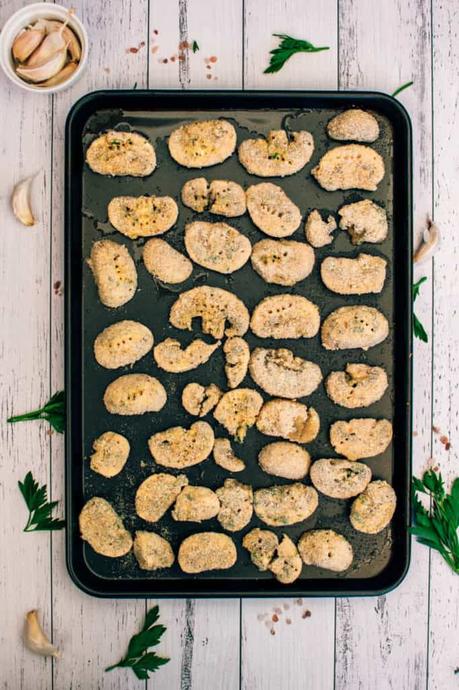 For the vegan garlic aioli
Blend the Aquafaba: Add the aquafaba and the salt into a blender (or immersion blender) so everything is combined.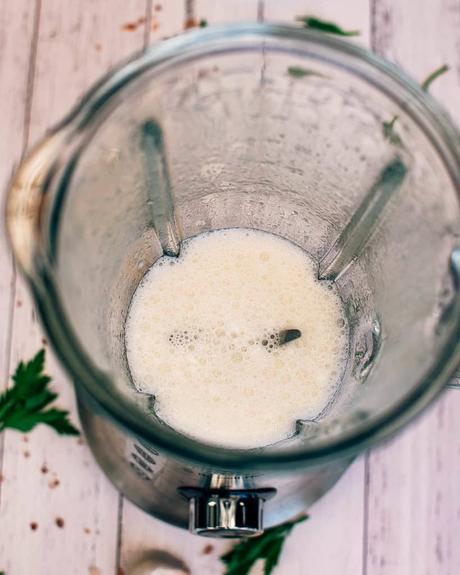 Add the Oil and Keep Blending! Keep the blender running constantly and VERY slowly drizzle in the oil, making sure it is fully combined as you go. If you add it too fast, the whole thing will turn liquidy and isn't redeemable. If you find you're getting a bit of oil on the top, stop adding the oil and just blend for a little while before continuing. The aioli will suddenly turn thick. Once all the oil is combined and thoroughly mixed, add in the lemon juice and garlic and blend until combined.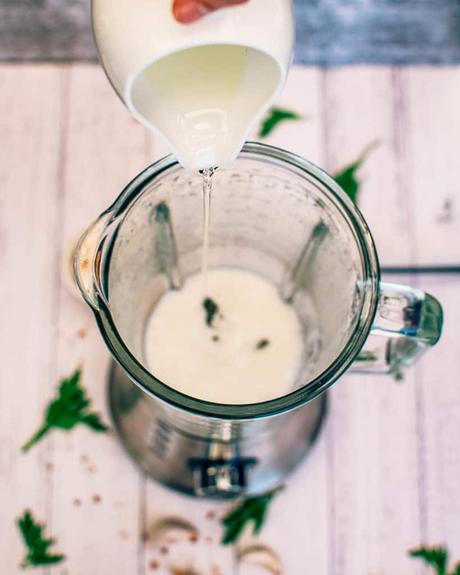 Serve! Serve this garlic aioli with mushroom nuggets or your favorite veggies for dipping!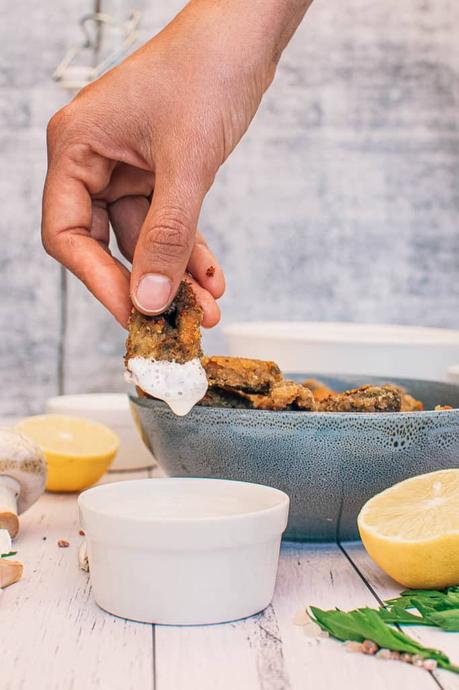 Recipe FAQs
Does Aioli Contain Eggs?
Most recipes for aioli do have eggs.. However, this version is vegan so it does not contain any eggs. Aquafaba is used instead of eggs. When whipped it takes on the consistency and properties of egg in vegan cooking.
What Do I Serve With Vegan Aioli?
You can seriously serve this vegan garlic aioli with almost anything. Here are some ideas I think you may enjoy.
Vegetables: Serve your favorite cooked or raw veggies such as brussels sprouts. Drizzle them in the sauce and serve. Delicious!
Sandwiches: Drizzle the sauce on your next sandwich or wrap. It's delightful.
Tacos: Add it to your tacos for a flavorful punch!
Will Kids Enjoy This Vegan Aioli Recipe?
While some kids may not love mushrooms (so the mushroom nuggets may not be a kid-favorite), almost all kids are going to love this vegan aioli recipe! Providing your kids with a creamy dipping sauce is one way to encourage them to eat their veggies. You can serve this sauce with both fresh or cooked veggies. Carrots, broccoli, zucchini, and more make excellent veggies to pair with this sauce.
How to Store and Keep
Transfer any unused aioli to a glass jar, such as a mason jar with a tight lid. Store it in the refrigerator. It will last around 2-3 days in the refrigerator.
I suggest labeling the aioli with the date it was made so that you don't eat it past 2-3 days. You will know when the sauce begins to go bad because it will take on a strange odor, and you may notice some visible mold growing. Throw it out if there is any question on how old it is.
Top Tips For Making Vegan Aioli
Don't try to mix the aioli by hand. It's far better to use a regular blender. This will give you the creamy, irresistible texture you desire!
Use an oil that doesn't have much flavor. I recommend using a flavorless organic vegetable oil or canola oil. Olive oil can cause a bitter flavor.
Want it smoky? Add a little bit of sweet or smoked paprika.
In the mood for some heat? Go ahead and add some cayenne pepper.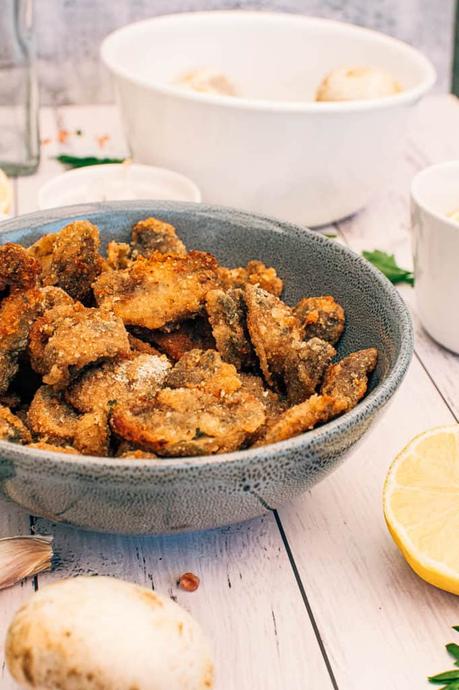 Check Out These Other Healthy Sauce and Dip Recipes!
If you have tried this Vegan Aioli recipe, or any other recipe on my blog, then please rate it and let me know how it turned out in the comments below! You can also FOLLOW ME on
FACEBOOK
,
TWITTER
, INSTAGRAM and
PINTEREST
to see more delicious, healthy, family friendly food.
Vegan Aioli