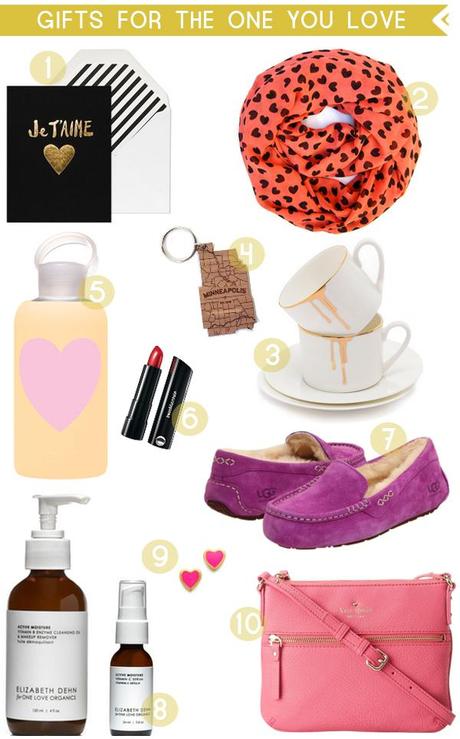 Ohhh, Valentine's Day. Not the most exciting of holidays but it is a good excuse to slap a heart on something. Or buy something pink. I'm looking forward to an evening of wine + brownies with some fellow Madison bloggers, and then a weekend in my old stopping grounds with some college friends! Here are a few gift ideas for the special folks in your life…
1. Sugar Paper Card ($6.00)- gold foil. black and white stripes. What's not to love?
2. Hearts Infinity Scarf on Etsy ($30.00)- This one's pretty festive but I would gladly take any scarf from this Etsy Shop.
3. Reiko Kaneko Gold Drip Mug Set ($85.00)- morning coffee just got so much prettier!
4. Minneapolis Key Chain by Neighborwoods via We Shop A Mano- Seriously heart everything from Neighborwoods and A Mano.
5. BKR Glass + Silicone Water Bottle in Trench ($34.00)- These trendy bottles are all the rage and make a great gift for significant others, friends & family!
6. Bare Minerals Moxie Lipstick in Light It Up ($18.00)- the world's most perfect shade of red.
7. UGG Ansley Slipper ($100.00)- These are my idea of perfection in footwear.
8. Elizabeth Dehn for One Love Organics Cleansing Oil and Vitamin C Serum ($38.00 & 68.00)- The only brand of skincare that touches my face. You will honestly fall in love with the ED4OLO cleansing oil + serum.
9. Kate Spade Heart Studs ($48.00)- Holiday themed but I'd probably wear them all year long!
10. Kate Spade Cobble Hill Tenley ($148.00)- Obsessed with the size of the Tenley (I'm a small purse person) and this pop of pink will be perfect for spring.