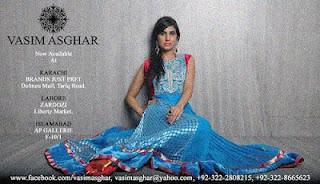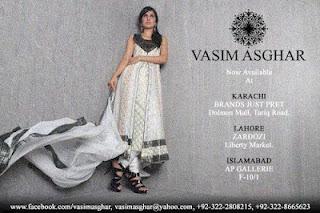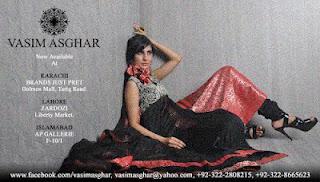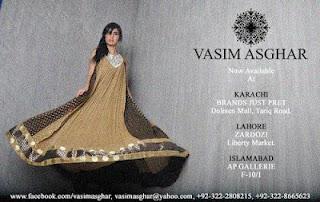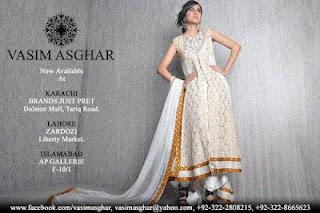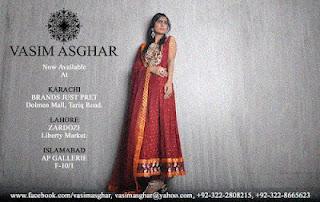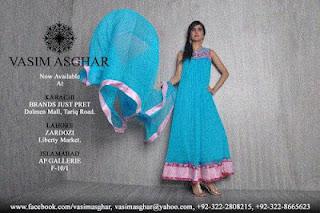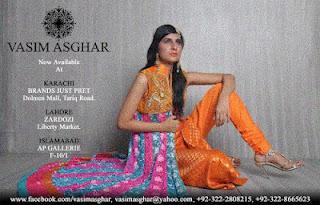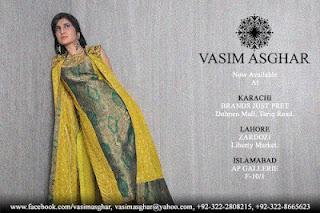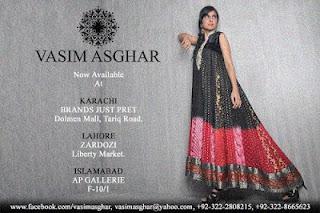 Vasim Asghar has recently unveiled its Eid Dresses 2012 for ladies which is a formal wear collection of stylish fashion dresses for ladies.Eid Dresses 2012 for ladies by Vasim Asghar includes latest designs of frocks and long shirts adorn with intricate embroidery and a touch of modern cuts has given these fashion dresses an alluring look. These new Eid dresses are paired with churidar pajamas and all eid dresses are looking amazing. As everyone is shopping for Eid 2012 and soon after Eid there will be a wedding season as well, so those of you who were looking for voguish fashion dresses must update their wardrobe with latest fashion dresses of Vasim Asghar.
Vasim Asghar is a gifted fashion designer of Pakistan Fashion Industry who focuses on ladies wear and has launched plenty of top fashion collections in recent past and his stylish fashion dresses have also featured in plenty of top fashion magazines as well.
Vasim Asghar Eid Dresses 2012 includes a pleasant fusion of vibrant colors that are ideal for joyful events. In 2012, they have seen plenty of frocks designs and as all of us know that Vasim Asghar believes in creativity, they has come up along with his own ingenious designs of frocks which are looking very eye catching.
Vasim Asghar Eid Collection 2012 for ladies is exclusively obtainable at Brands Pret which is located in Dolmen Mall, Karachi, AP Gallarie, Islamabad and Zardozi in Lahore. Lets have a fast look at these stylish new eid dresses from Eid Dresses 2012 by Vasim Asghar. Fashion Model Areeba Habib has modeled for Vasim Asghar Latest Fashion Dresses for Eid 2012, photography was completed by Yasser Sadiq and hairstyling and make up was completed by Sabs.