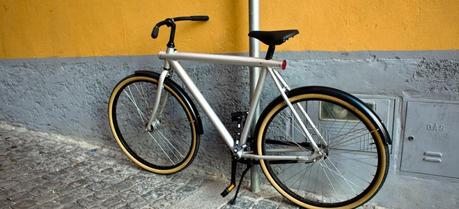 A Vanmoof electric bike. (Credit: Vanmoof)
Vanmoof, an ambitious Dutch company, plans the global launch of what it calls "world's first intelligent bike," the Vanmoof Electrified, on July 1.
The Vanmoof Electrified city bike features a number of modern technologies. The company's press release describes it as follows:
Smart Power Assistance takes you around town faster and in comfort. Whether you're going uphill, downhill or on the flat, VANMOOF Electrified's on-board computer monitors cycling behavior and adjusts the bike's motorized power supply accordingly. Even using pedal power alone, the ride is as smooth as any VANMOOF bike, and the whole bike weighs just 19 kg (≈42 lbs), thanks to its lightweight battery.

Dashboard. Integrated into the anodized aluminum frame of the VANMOOF Electrified is a discreet dashboard that offers complete control of all of your bike's key functions. An intelligent interface between cyclist and machine, its display features both a battery indicator and a motor power indicator, allowing you to keep track of your progress at a glance. What's more, the corresponding remote control allows you to turn your bike on and off as required.

Integrated GPS tracking developed with telecommunications expert Vodafone empowers owners to accurately locate a lost or stolen bike in seconds, via your smartphone. This development is a major breakthrough in the fight against bike theft, and another leap forward in the VANMOOF mission to provide intelligent solutions to the everyday challenges faced by urban cyclists worldwide.
The bike's battery range is stated by the manufacturer at 30 to 60 km (18.64 to 37.28 miles), depending on variables like weather and elevation. After the launch, the Vanmoof Electrified bike will be sold for $2998. The bike is also available for preorder on the company's website.