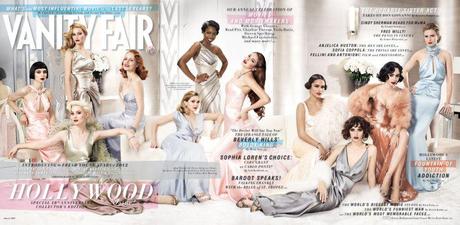 As a subscriber, and big fan of Vanity Fair, I am always excited to see their annual Hollywood Issue cover. The cover always includes a number of Hollywood legends and rising stars on the three-page cover. This year photographer Mario Testino (in his first ever Hollywood issue cover) captures 11 gorgeous breakout stars wearing beautiful designer satin gowns. Vanity Fair's March 2012 issue, features Rooney Mara, Mia Wasikowska, Jennifer Lawrence, Jessica Chastain, Elizabeth Olsen, Adepero Oduye, Shailene Woodley, Paula Patton, Felicity Jones, Lily Collins and Brit Marling.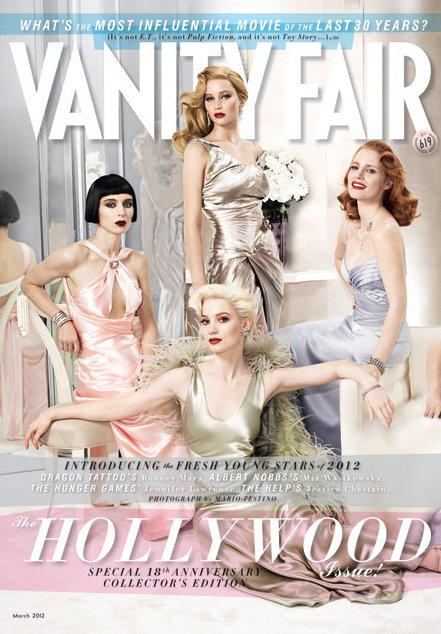 The first panel features the most established actresses of the bunch. Rooney Mara is wearing a Ralph Lauren gown, as is Albert Nobbs actress Mia Wasikowska. Jennifer Lawrence, who is starring in the much anticipated Hunger Games is in custom Donna Karan and Jessica Chastain is in Giorgio Armani. Mara and Chastain have both been nominated for Academy Awards this year. Mara for her portrayal of Lisbeth Salander in Girl with the Dragon Tattoo, and Chastain for her supporting role in The Help.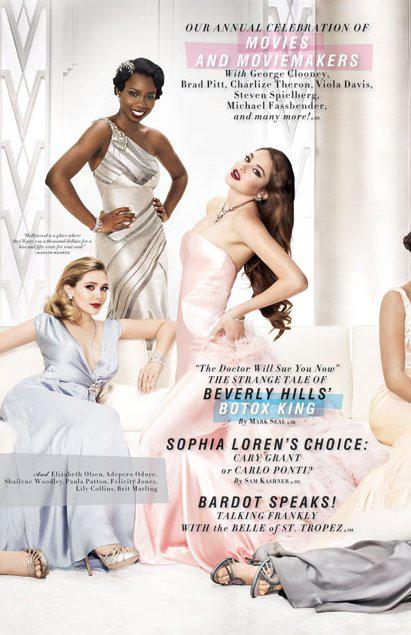 On the second panel Elizabeth Olsen, who has been dubbed 'the one to watch' after wowing critics in Martha, Macy, May, Marlene, wears Salvatore Ferragamo and Pariah's Adepero Oduye wears Carolina Herrera. Also, The Descendants star Shailene Woodley poses in Ralph Lauren.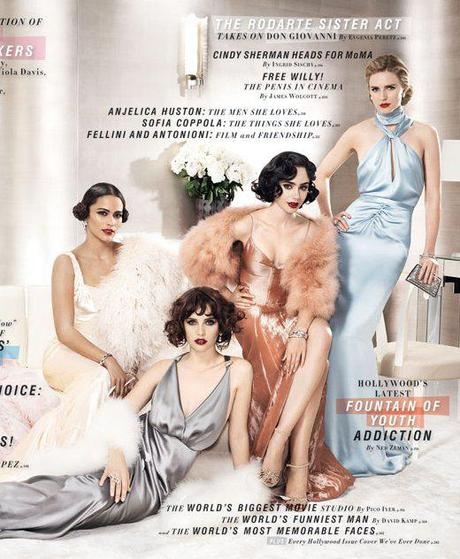 The third panel shows Paula Patton, who appeared alongside Tom Cruise in Mission Impossible: Ghost Protocol, in L'Wren Scott and British actress Felicity Jones, who is starring in Like Crazy this year. Also, daughter of musician Phil Collins, Lily Collin s, who won the role of Snow White in the Grimm Brithers Mirror Mirror wears Calvin Klein and next to her is the virtually unknown Brit Marling in Tommy Hilfiger. Marling is one of the most talked about young talents in Hollywood; most recently she co-wrote, co-produced and starred in Another Earth - definitely some one we will be seeing a lot more of.