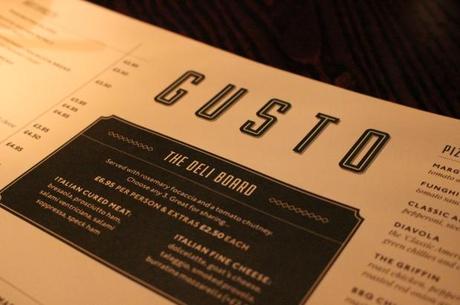 One of my favorite haunts for a mid-week cocktail in Leeds is Gusto. In fact, it's just one of favorite haunts full stop. Lunch with the girls, date night or dinner out with the family, I spend more time at this restaurant than I do in my own home. So, yes, if you thought you'd read about Gusto on the blog before, 10 points for observation. The truth is, I just can't get enough. There's always a buzzing atmosphere and so many fairy lights it feels like Christmas all year round. Speaking of Christmas, I've actually booked in at Gusto for Christmas Eve. Can you say OBSESSED? This restaurant does have a special place in my heart as it's where we came on Christmas Eve last year about 45 seconds after I got engaged. I can't believe it's almost been a year! Gusto have a new menu for the festive season so without further a do, let's see what's on offer.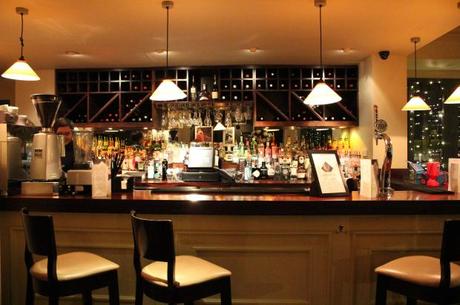 Fancy a drink first? You can perch at the bar and enjoy a watermelon cocktail or two or head downstairs right into the action. If you decide to linger give the bar man a challenge and ask for my favorite cocktail. I can't remember the name but this photo will help. You're welcome!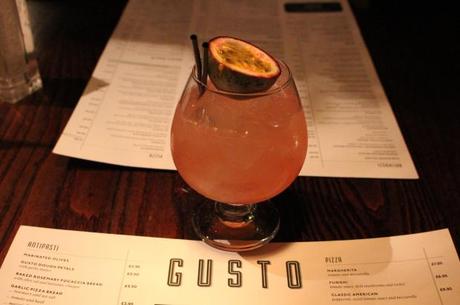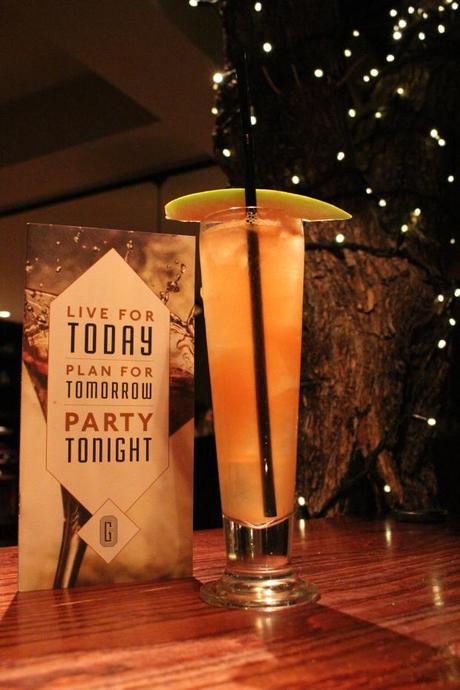 WAIT! Before we dive in and order, I have to give Joe (photography wizard and my favorite waiter)  a little (all) the credit for this beautiful photo of my watermelon martini. I'm still getting to grips with my new camera and these dark nights aren't doing anything to help my photography skills. Luckily, Joe knows a thing or two about taking the perfect shot and of course the new menu which is great news for someone who is indecisive like me.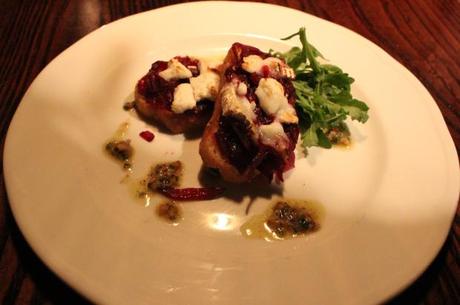 Garlic bread lovers will love Gusto's tasty pizza breads but if like me you get a little giddy and fill yourself up before the meal has barely started, you might fancy the goats cheese bruschetta. It comes with caramelised red onion and it is truly delicious.I'm a sucker for pizza but pizza isn't a viable option when you frequent this restaurant as often as I do. There is that little black dress to think about and of course my not so little white one. The new menu does have a smoked salmon and prawn pizza that I was desperate to try but I was swayed by the butternut squash and sage ravioli.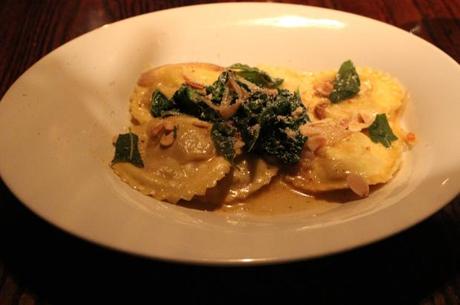 Still hungry? Right, if you're a first timer, it's compulsory to try the chocolate pizza. The Nutella Calzone is like heaven in pizza form and it's something everyone should experience at least once. Since I've consumed approx 78 of Gusto's chocolate pizzas this year, I decided I'd try something new for a change.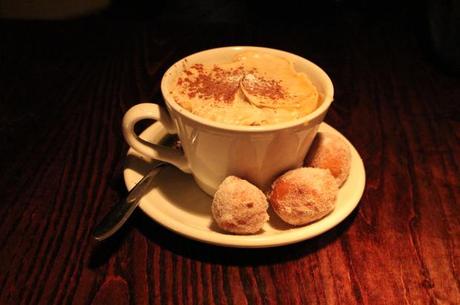 Now, if you are one of those people with a sweet tooth, this salted caramel chocolate mousse will knock your socks off. It was so rich that neither me or my date for the night could finish it. It comes with mini sugary doughnut balls on the side which are just delightful but it's even more indulgent than the chocolate pizza and it comes in a cup which makes it look deceivingly small. The vanilla risotto is a great middle of the road dessert, sweet enough without putting you in a sugar coma for the rest of the night.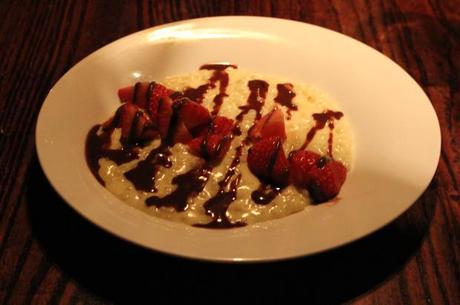 PS Vanilla risotto is a totally posh name for rice pudding and it reminds me of something you would see on a Come Dine With Me menu which I sort of love.
Do you love Gusto? Have you tried the chocolate pizza? Has anyone ever finished a salted caramel chocolate mousse cup? Let me know in the comments!
Preferences Preferences Preferences Preferences Preferences Preferences Preferences Preferences Preferences Preferences Preferences Preferences Preferences Preferences Preferences Preferences Preferences Preferences Preferences Preferences Preferences § 1 2 3 4 5 6 7 8 9 0 - = Backspace Tab q w e r t y u i o p [ ] Return capslock a s d f g h j k l ; ' \ shift ` z x c v b n m , . / shift English Deutsch Español Français Italiano Português Русский alt alt Preferences