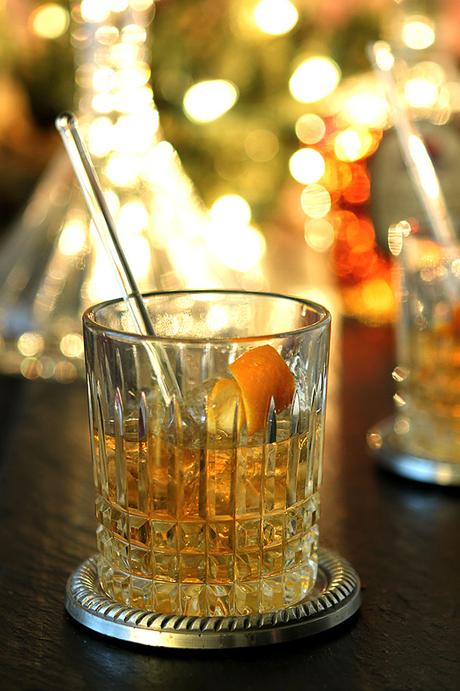 This time of year is filled with so much reminiscing about our families and one that never escapes me was seeing my dad drinking an Old Fashioned on Thanksgiving Day. He seemed to switch up his summer drink of choice (beer) just in time for having a cocktail at dinner with the big meal of the year and that habit continued through the holiday festivities. He and my mother both liked simple cocktails; they might completely eschew some of the drinks I make today. They liked Martinis, Manhattan's and Old Fashioned cocktails...and of course, beer. This Vanilla Old Fashioned Cocktail might fit their profile of acceptable choices and I would like to believe they would enjoy it.
The first use of the name "Old Fashioned" for a Bourbon whiskey cocktail was said to have been at the Pendennis Club, a gentlemen's club founded in 1881 in Louisville, Kentucky. The recipe was said to have been invented by a bartender at that club in honor of Colonel James E. Pepper, a prominent bourbon distiller, who brought it to the Waldorf-Astoria Hotel bar in New York City.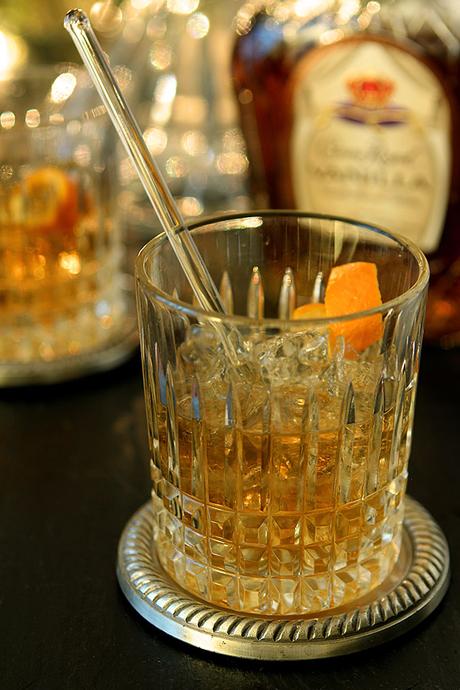 Common garnishes for an Old Fashioned include an orange slice and/or a maraschino cherry, although these modifications came around 1930, some time after the original recipe was invented. While recipes began making sparse use of the orange zest for flavor, the practice of muddling orange and other fruit gained prevalence as late as the 1990s. I prefer to not muddle the fruit but do love adding enough orange from bitters, some of the orange oil and the final citrus garnish to make its presence known.
I've worked before with the folks at Crown Royal; sharing this Blueberry Coffee Cake that I made with their Crown Royal Maple Whiskey. It was a true winner so I was excited to be asked to 'fiddle' a bit with their new Crown Royal Vanilla, described by the company as "a blend of hand-selected Crown Royal whiskies infused with the rich flavor of Madagascar Bourbon Vanilla." If you like Canadian whisky and love vanilla, well, I know you'll love Crown Royal Vanilla, it's a "best of both worlds" experience.
Not meant to be a sipping whiskey, its best used as a mixer and some easy suggestions from Crown Royal include mixing it with ginger beer, cola and even Dr. Pepper. I wanted something a bit more sophisticated than that if I'm going to share it here but I have to admit the ginger beer idea is still calling my name! The addition of the vanilla notes to this cocktail with whiskey, sugar and orange was most enjoyable.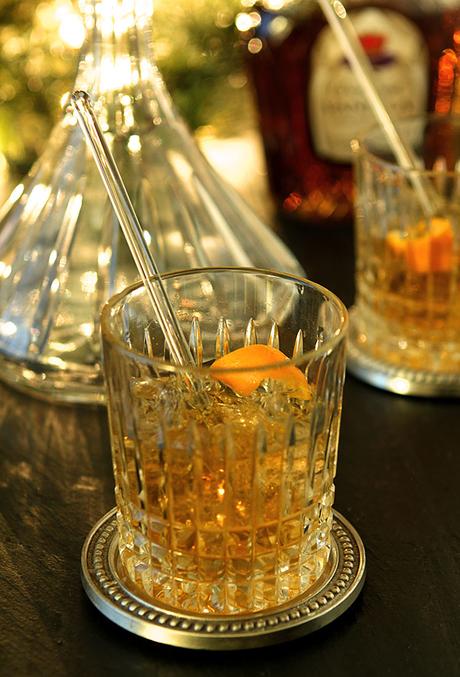 My third cocktail in the series 'All Cocktails All the Time' (well this week at least!) might not exactly be a 'holiday' cocktail but it has that connotation for me. For my friends that would prefer a cocktail on the rocks versus one laden with fruit and simple syrup, this is a good addition to the library of available options for them; I know I sure loved it!
Try one; it's really not old-fashioned to love an Old Fashioned!
Serves One Cocktail
5 minPrep Time
5 minTotal Time

Save Recipe
Ingredients
Instructions
This is a sponsored conversation about Crown Royal Vanilla however all commentary is my own.