Vang Vieng is a small town in Laos, four hours north of Vientiane, that has become a backpacker's haven. A paradise of young drinking idiots afloat down the river Nam Song on inner tubes and Lao Beer on their laps. Much of this infamous drunken tubing had been curbed before my arrival at Vang Vieng due to the many young deaths. I prefered to experience the Nam Song's many rapids on a kayak, although my previous inexperience kayaking meant that I spent most of the time in the water struggling to get back into the kayak while my feet brushed the stony floor of the river as the strong currents swept me along.
Vang Vieng has been built up to accommodate the backpacker trade. The main streets are full of guest houses, bars, restaurants, internet cafe's and tour agencies. A few stalls sell local trade with the odd stall packed with bits and bobs you never knew you needed and a fine layer of dust. The best way to see Vang Vieng is to hire a bike and take a long cycle to the surrounding villages. I cycled over two rickety old wooden bridges over the Nam Song river. Pedestrians, motorbikes, bicycles, Tuk Tuk's and Lao truck's, which are tractor engines pulling along carts, all use the bridges both ways at the same time together. It is difficult not to stop on the bridge and simply stare at the breathtaking beauty of the town, nestled along the Nam Song river and the lush green hills in the background.
My guest house in Vang Vieng was a traditional hut on stilts tucked away in a forest canopy. Inside the hut was a bed, a net curtain with plenty of access for mosquitoes, a fan and one shelf. When you are travelling what else could you possibly need? On my first morning I woke up and opened my door eager to greet a new day, and completely shocked to find it pitch black outside. It was still the middle of the night! Grumbling I went back to bed only to wake up and find it barely any lighter outside. I gave up and sat on a bench outside the room watching a hot air balloon rise with the sun.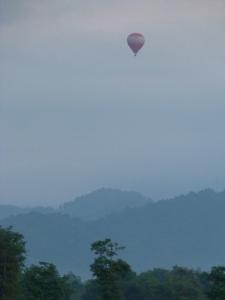 View from my room at Vang Vieng
The only tubing I attempted during my stay in Vang Vieng was in a cave. We had to pull ourselves through a waterlogged cave in darkness by a long rope and a flashlight on our heads. Afterwards our guide gave us a lunch of chicken kebab, rice and warm bread. I don't think I have ever tasted a heartier more delicious meal after such an exhausting excursion. Every evening I took a stroll on my own, each time going down a different route, always wanting to see what is round the next corner. Often along these strolls I watched naked little boys playing in the river, their identical bronzed bodies a picture of health and I felt at awe at the freedom of their childhood. Afterwards I hung about with my fellow travellers, usually talking about the places we had travelled and losing terribly at a game of cards. One evening I met an amazing woman, Jane who in her sixties captivated me with tales of her travels around the world, most of the time alone.
On one long cycle ride, with a lovely girl from New Zealand I had become friends with, looking for a blue lagoon we had heard you could swim in, we went down the wrong route and ended up along a very bumpy road that my traditional Lao bike did not agree with. We came across three men who were sitting around demanding money at the entrance to a cave. This was the only time I felt a little intimidated in my travels in Lao. I am not sure that their presence had any legitimacy to the cave but I had to admire their entrepreneurship. An old man took us through the dark cave with flashlights on our heads. Some parts of the cave we had to crawl through tiny spaces that opened up into more rooms. I became completely disoriented and was glad for the guide. The unexpected tour of the cave turned out to be far better than the blue lagoon that we had been searching for. When you are travelling you have to be open to new experiences, sometimes it is the unexpected that we remember the most.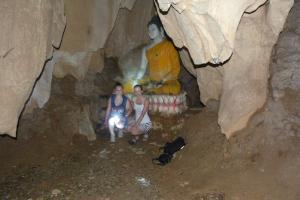 Caving in Vang Vieng
On one of my walks in the late afternoon I came upon this. For those of you that suffer from extreme arachnaphobia…..it's ok you can scroll down.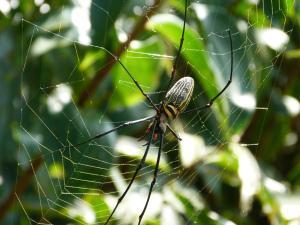 Aaaaagh!
I am not exaggerating when I tell you that this spider was bigger than my hand, not that my hand went anywhere near that thing! And I have to say after seeing a few Golden Orb spider's I am no longer afraid of the common house spider in England. Seeing these giant spiders has pretty much cured me of my fear!