Windham, Conn. - M & J Bus Inc. expected to have its fleet of school buses up and running this morning, a day after vandalism to 23 of the vehicles forced Windham Public Schools to close.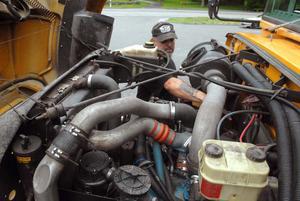 Ron Evans shop manager at M and J Bus Garage in Windham checks one of the 23 buses that were vandalized over the night. Sand, mud and water were put in the gas tanks causing Windham schools to close for the day.
Workers at the bus company's garage on Bricktop Road were busy replacing filters and pumping fuel through the school buses Wednesday morning after discovering someone had poured dirt into the gas tanks.