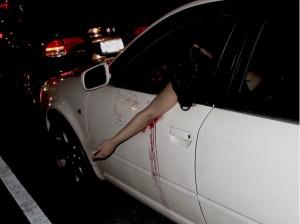 Deadly for vamps, that is. For True Blood fans it's just another means to feed our hunger for all things relating to the supernatural. We first learned of the website in Sunday's episode "If You Love Me Why Am I Dyin'?", where a video of a vampire feeding on a human had major reprocussions for one unfortunate vamp. The About Me section on the site reads:
Wake up people before we are all DEAD. Vampires are EVIL KILLERS who feed off of humans and they are EATING US ALIVE. This site is dedicated to proving that bloodsuckers ARE AMONG US and that we must stop at nothing to rid America of these scavengers.
There are videos, including the one from Sunday's episode, photos, and lots of slanderous words and thoughts about vampires.  There's also a link to The Fellowship of the Sun, which features a Missing Person Alert for Steve Newlin (can't wait for this storyline to hit season 4!).
Check it out here, Truebies. What do you think? We have a feeling that we'll be seeing a bit more of this website in upcoming episodes.
Source: This is Vamps-Kill.com
Photo Credit: This is Vamps-Kill.com