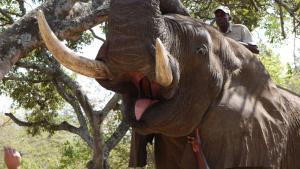 29 year-old 'Tembo' shows us his grinders. Groom Anton is making sure Tembo remains well-rewarded for his good behaviour © CJA Bradshaw
I acknowledge that I've been banging on a bit about southern Africa over the last few weeks, but I defend my enthusiasm on the grounds that my first trip to the Kruger National Park profoundly changed the way I view extinction theory and conservation biology.
Today's post rounds off this mini-series with something I only alluded to in my last: interacting with tame elephants.
I have always been in two minds about the role of animals in captivity, with my opinion that most zoos edge toward the negative because most people who attend them appear to view the animals as a freak-show rather than appreciate their beauty or be fascinated by their behaviour and ecology; add the near-impossible-to-avoid psychological distress to which most captive animals succumb, many zoos in particular are probably better off not existing at all.
That being the case, I won't simply write off all captive situations as 'negative', because if done well, they can have a wonderful educational role to play.
A case in point is Elephant Whispers in Hazyview, just outside of the Kruger National Park near Phabeni Gate. I admit the main reason I went there was to expose my nine year-old to these stunning megafaunal beasts after we had spent the previous fortnight seeing them in the wild inside the Park. I saw it more as a good thing to do as a parent to entertain my child, with the hope that she might learn something from the experience. As it turns out, I probably learned more than she did.
You can read all about the origins and history of Elephant Whispers on their website, but I will summarise briefly what it is all about. It's a private ecotourist venture housing six African elephants (Loxodonta africana) and employing about 25 local people in their training, care and upkeep. The elephants themselves are all sourced differently, from orphans to problem animals to those spared from over-population culls. They are all tended by 'grooms' (cf. 'mahouts' for Asian elephants Elephas maximus), and they have an extensive area of native bush in which to forage for most of the time when they're not being displayed for tourists.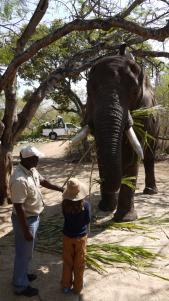 My daughter telling Tembo to 'talk!'. © CJA Bradshaw
If you've seen trained Asian elephants in action, it's quite a different scene at Elephant Whispers. First, the elephants are trained using a reward system (as opposed to a 'breaking/punishment' system) often employed for the former. The grooms are not paired to individual elephants for life, and instead are shifted from animal to animal throughout their lives. In that way, the remarkable repertoire of verbal commands (up to about 150 for an experienced elephant) can be given to them by anyone. Even my daughter was allowed to command the biggest elephant, Tembo, to 'talk!'. And he did.
I could go on and on about the behavioural, morphological, ecological, physiological, sociobiological and conservation facts we learned from the grooms and presenters, but that's not the point of this post. Needless to say, it was an education.
I had a long discussion with André Kotzé, manager of Elephant Whispers about this experience, and he advised that the informed punter would benefit most from visiting them before heading into the Kruger. That way, the ecotourist can learn about the subtle behaviours and physiology of the animals that they then view in the wild state, thus appreciating the largest extant land animal quietly getting on with life. I completely concur, and wished I had done it that way round.
More importantly, I found myself wondering why there weren't more of these sorts of venues dotted around Africa's major national parks. André lamented that they are often the target of animal-welfare organisations that oppose any sort of captive situation for elephants, which to be frank, is complete nonsense and entirely counterproductive to saving the species.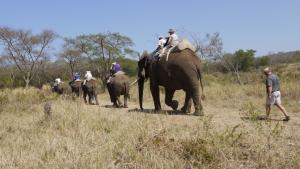 A little ride on the stars to complete the experience (that's us with Anton on the back of Tembo following the queue)
With increasingly human-wildlife conflict in the areas outside of protected areas, massive elephant poaching throughout southern Africa, and rising wealth inequity and human population density, the only way to secure any future for elephants in Africa is to ensure that they are valued by local people. André and his team not only bring in local community members and school groups regularly to learn more about elephants (indeed, many people living within cooee of the Kruger have never actually been inside of the Park's boundaries), they employ 25 local people in the process. Why aren't there more such venues?
I'm afraid that if the half billion people living in subSaharan Africa do not see the value in these creatures, the last surviving megafauna will be long-gone by the time my daughter grows up. I therefore thoroughly endorse the good work the people at Elephant Whispers are doing (including sponsoring research programmes to minimise human-wildlife conflict, among other topics), and I encourage you to visit and partake in the amazing experience yourself if you are in that part of the world.
Well done.
CJA Bradshaw