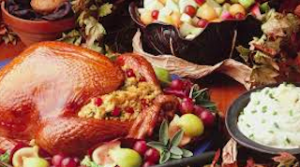 Value Wines For Thanksgiving Feasts – Priced Under $15
A Thanksgiving toast for you…

"He who clinks his cup with mine,
Adds a glory to the wine."
      George Sterling
Thanksgiving is the perfect time to share food, stories and a variety of wines with friends and family. For this tasting, I chose an assortment of wines all priced under $15. I bought them at my local Safeway, so most of them should be readily available across the country. If you can't find a particular wine, visit the winery's website – most wineries can ship direct across the country.
The wines I chose all compliment turkey, stuffing, cranberry sauce, sweet potatoes, even Mom's "Green Bean Surprise." I don't think there is a wine out there that pairs well with that green Jello mold thingy with the little marshmallows, though. Gack. Speaking of gack, am I the only one who hates green bean casserole?
Pine Ridge 2013 Chenin Blanc/Viognier $10.99
I buy this wine all the time, because I love its sassy, spicy, juicy-but-rich mouthfeel and its abundant aromas and flavors of green apple, mandarin orange, pineapple and tropical flowers. Think Drew Barrymore on a picnic blanket, wearing nothing but a crown of daisies and you're with me on my happy, wine-drenched planet.
Fetzer 2013 Gewürztraminer $6.99
This Gewz is done in a slightly sweet style, but it's balanced and lovely, with aromas and flavors of juicy, ripe peaches, Asian spice, rose petals and jasmine tea. The mouthfeel has a slight spritz, which helps balance the sweetness. This wine reminds me of Cameron Diaz, wearing cutoffs, a T-shirt and flip-flops at the beach – it's pretty, lively, fun and slightly sweet.
La Vieille Ferme 2013 Rosé $6.64
There are usually a few bottles of this wine in my cellar and my fridge, because I'm a sucker for good dry Rosé and this one is a total steal! It's a study in cherry, strawberry, citrus and Herbs d' Province, from the first sniff, through to the finish. It's bright, crisp, juicy and perfectly balanced. Take a sip and you just may be transported to a smoky Paris bistro, with Edith Piaf singing "La Vie En Rose" in the background.
Balletto 2013 Rosé of Pinot Noir $12.59
I LOVE this Rosé! It's complex, sophisticated and sexy, with just enough cherry/berry fruit to make it fun and too easy to drink. Aromas of cherry, strawberry, white flowers and savory herbs lure you into a juicy mouthful of consistent flavors. This wine is like Bruno Mars – it has a lot going for it!
Byron 2012 Pinot Noir $14.69
This delightful Pinot would be a steal at twice the price. At under $15 per bottle, I suggest you stock up! One sniff and there's no doubt that you are in for a treat! Seductive scents of cherry cola, rose petals a little slap of clean leather and a whiff of cherry tobacco smoke lure you into a silky, sexy mouthful of consistent flavors. This wine reminds me of Johnny Depp in the movie "Chocolat" – it's exotic, complex, sexy and a lot of fun.
Dancing Bull 2012 Zinfandel $6.64
In a word, yum! This big, bold, easy-drinking red is a total crowd pleaser! Aromas of blackberry pie, baking spices and pepper continue in a richly textured mouthful of consistent flavors. This wine reminds me of Fats Domino – it's big, easy-going and a ton of fun. Drink it and you just may find your thrill on Blueberry Hill! What a great value!! Word of caution – this delicious wine is too easy to drink. Just sayin'…
From my Barnette in the vineyards of the Russian River Valley to your home – here's wishing you a warm, safe and delicious Thanksgiving!