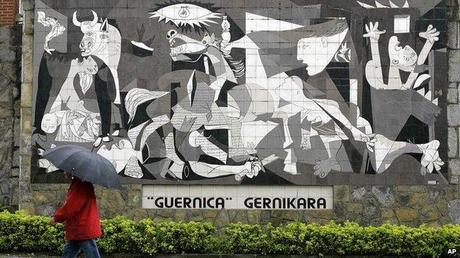 The Nazis detested Picasso, whose artwork Guernica depicted a German bombing during the Spanish Civil War
What's done in the dark eventually comes to light.
Hitler was many things. During his horrific reign, he mutilated and massacred people. Destroyed and desecrated cities, countries and communities. He scarred a generation with his brutality and callousness. And somewhere along the way, he managed to steal the innocence as well as the private, precious  possessions of people who bore the brunt of his ire.
Since WWII there have been many of comeuppance for those who participated in those evils alongside Hitler. Sadly, survivors and families of those murdered weren't always reunited with their stolen belongings, despite a united effort on the parts of various governments across the EU.
Which makes a recent find so amazing:
A collection of 1,500 artworks confiscated by the Nazis in the 1930s and 1940s has been found in the German city of Munich, media reports say.

The trove is believed to include works by Matisse, Picasso and Chagall, the news magazine Focus reports.

Some of the works were declared as degenerate by the Nazis, while others were stolen from or forcibly sold for a pittance by Jewish art collectors.

If confirmed, it would be one of the largest recoveries of looted art.

Investigators put the value of the works at about one billion euros (£846m; $1.35bn), Focus said.
Chagall's Parents

Tax authorities in Munich were searching the home of Cornelius Gurlitt, a suspected tax cheat. They surely hoped to find something implicating him in chiseling the tax system. Since Gurlitt is the reclusive son of a Munich art dealer, perhaps the tax authorities thought they might find some art in addition to evidence of tax evasion.

However, they surely didn't expect to stumble across an astounding 1,500 paintings by masters like Matisse, Picasso and Chagall. The treasure trove of priceless art vanished during the Nazi regime and is valued at $1 billion. The bizarre story first appeared in the German language magazine Focus, though the BBC has a summary in English.

The BBC noted that the U.S. Holocaust Memorial Museum estimates that the Nazis seized approximately 16,000 artworks during the 1930s and 1940s. Of the 1,500 works recovered in the Munich tax search, 200 of them are reportedly the subject of international warrants.