Valley of Flowers is one of the most beautiful places in India, situated in the western Himalayan region of Uttrakhand.
It is a bouquet of nature where Flowers bloom naturally everywhere on the riot of colors.The serene river passes through the middle of the valley while on one side tall cliffs touches to the sky and other side snow covered mountains guard the valley.
Valley of Flowers is an Indian National Park and UNESCO World Heritage Site exhibiting rare flora and fauna.
This valley is also the home of rare and endangered animals and rich diversity of medicinal plants. Tucked up at 3052 meters this trek is famous with the Mountaineers and Hikers.
Blessed with exotic beauty this trek will take you to the "kingdom of Dreams" .
The best time to go valley of Flowers is from Mid June to End August.The trek is considered as easy to moderate so if you are beginner you may find a bit difficulty in trekking but if you are an experience trek it is like a cup of tea.
About the Trek
Trek from Govindghat to Ghangaria (14Km/4-6 Hrs)
This trek basically starts from Govindghat, anyone can easily reach to Govindghat via Joshimath by local bus. After reaching Govindghat you can stay here for the night.
GovindGhat
Early morning around 6 o'clock get ready for the further trek have a solid breakfast.You can take a cab from Govindghat to Pulna i.e 3 KM on-road journey they will charge you only Rs 40-50 only.
There is no road after Pulna hence you have to walk ascending trek from here onwards. The trek is pretty simple, after trekking around 2-3 hours, you will reach Bhyundar it is a very small town where you can have some rest of can have some snacks.
A view during trek to Ghangharia
After the Bhyundar, you will reach other ends of the river by small bridge. Here the second part of trek start this trek is pretty steep hence some may find kinda difficulty. After walking off again 2-3 hours you will reach Ghangaria. Ghangaria is a small town where you can stay for the night as there are many hotels available.
Ghangaria to Valley of Flowers (3.5 Km / 3-4 Hrs)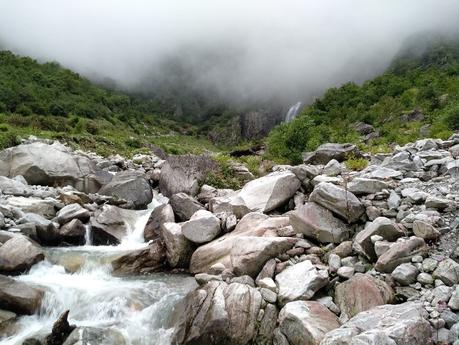 Ghangharia
It will be good if you start your trek early morning around 6 o'clock because then you will have the full day to explore the valley of flowers.The trek to the valley is easy to moderate.
Please have a water bottle with you as there are no shops in route.There is an entry gate where you will have to buy tickets, After 1km walking, you will see a beautiful small bridge in over the river connecting two mountains. When you cross the bridge you will see a small trail, that you will have to follow.
More you go more you will find scenic beauty.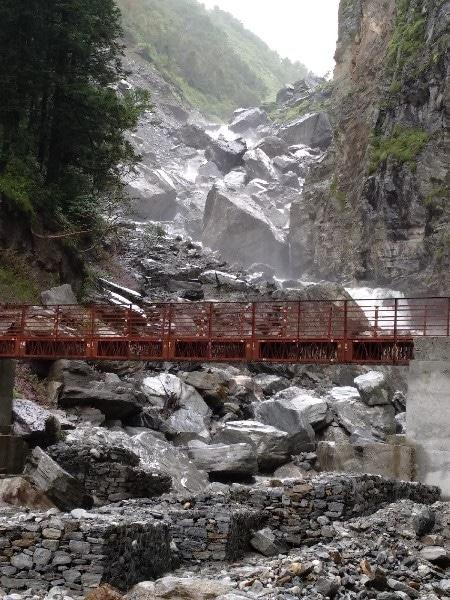 After walking 1 hour you will able to see a flat land i.e your destination, you will start to feel energetic and motivated. At the end of the trek, there is a small bridge made of the tin shed that is where the Valley of Flowers starts.Here you can start to explore the valley of flowers.It is spread in 5km area. I would recommend you to go till the end of the valley of flowers.
You Guessed it Right, Valley of Flowers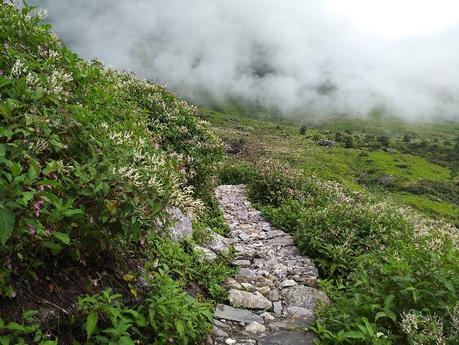 After exploring come back to Ghangaria where you can stay away for the overnight. Here is you wish you can go to Hemkund Sahib trek i.e 7 km steep trek or you can come back to Govindghat following the same route again.
Valley of Flowers trek gives you an awesome joy of Himalayan trekking.Once you are done with this trek it won't be a surprise that you will be planning for another Himalayan trek.