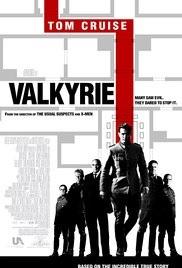 Director: Bryan Singer
Writer: Christopher McQuarrie, Nathan Alexander (Screenplay)
Starring: Tom Cruise, Kenneth Branagh, Bill Nighy, Tom Wilkinson, Carice van Houten, Thomas Kretschmann, Terrence Stamp
Plot: A dramatization of the 20 July assassination and political coup plot by desperate renegade German Army officers against Hitler during World War II.
There may be spoilers the rest of the review
Verdict: Good War Thriller
Story: Valkyrie starts in the middle of World War II, outspoken German Colonel Claus Stauffenberg (Cruise) is assigned duty in Tunisia where he gets injured. Back in German Major General Henning von Tresckow (Branagh) has been working on a plan to assassinate Hitler and ending the war.
When Henning's latest choice fails, he gets his fellow General Friedrich Olbricht (Nighy) to recruit a new member to this secret group and Claus is that man. We follow as the plan to assassinate Hitler comes together with espionage between the ranking officers, secret meetings and changes in potential candidates.  
Thoughts on Valkyrie
Characters/Performance – Colonel Claus von Stauffenberg is the soldier injured during the war and now he is the man with the plan to assassinate Hitler. Major General Henning von Tresckow is the officer that brings Claus into the circle as he wants to find the end of the war. General Friedrich Olbricht is the handler of Claus in the ranking side of things but off the books he must follow the instructions of Claus. The characters are all based on real people all involved in the real assassination attempt on Hitler.
Performance wise, well first we need to address that this is an English-speaking movie about what is happening within German during the war so we need to look past that when judging these performances of Tom Cruise who is good showing he can do serious movies over action sequences. Nighy, Branagh and Wilkinson are all great through the film as are the rest of the cast.

Story – This is a look at a moment in history that many people don't know about, we all know how World War II went and the bigger events, but looking at the story of a revolution within the German army to stop Hitler ending the war. The amount of people that would risk their lives to stop Hitler but the weak point here is we know the truth that it failed.
History/War – Looking in the history of World War II we get to learn about a smaller detail which get covered up because they were failed missions to end the war and this gives us that story.
Settings – Each setting shows us the image of war time Germany with little issues with the look of the sets.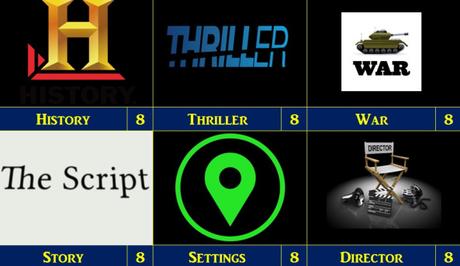 Final Thoughts – Nice look into history about a moment that could have changed the end of the war forever.
Overall: Historical film that does show us a moment of great risk that ended in failure.
Rating

Advertisements