I feel I should start this recipe with a disclaimer: I'm not that much of a romantic and last year was the first time I properly did anything for Valentine's Day. That has, however, warmed me to the idea of using Valentine's Day as a good excuse for eating something that little bit more special, whether it is with a partner, with friends, or just to treat yourself.
So with that in mind, what better excuse to create some delicious treats like these mostly raw, mostly healthy, vegan Salted Caramel Chocolate Cheesecake Slices?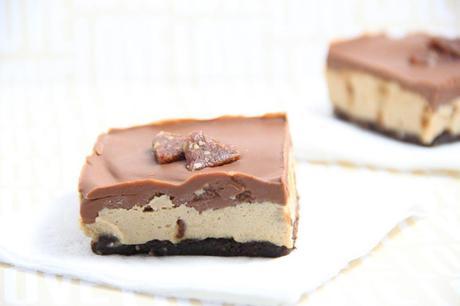 The "cheesecake" part of these is a deliciously creamy blend of cashew nuts, almond milk and tahini. Whilst not really low in calories, it is sugar-free and full of protein and calcium. You could add a little sweetener to the filling if you want a more classically sweet dessert, but I found the dates and vanilla added enough for me.
I have topped these using dairy-free "milk" chocolate but again you can customise this to your taste and replace it with dark chocolate if you fancy (or regular milk chocolate for a non-vegan version) or with a raw chocolate topping to make these a fully raw dessert. Using the milk chocolate however added a sweetness that, for me, really transformed these Salted Caramel Chocolate Cheesecake Slices into something extra special.
As you may know, I am a huge fan of Nakd bars and you will find two varieties incorporated into this dessert: Cocoa Delight and Berry Delight. These work an absolute treat for the base and a little decoration to top them with, but if you can't get hold of any you can make your own base using this raw brownie recipe and omitting the ginger.
The dimensions below are just a guide as ideally you want to "build" the cheesecakes in a container that allows you to pour in each layer, without any overflow, so do adapt this to whatever you have. I actually used a loaf tin and constructed a close-fitting edge using tin foil to give the cheesecake even(ish) sides.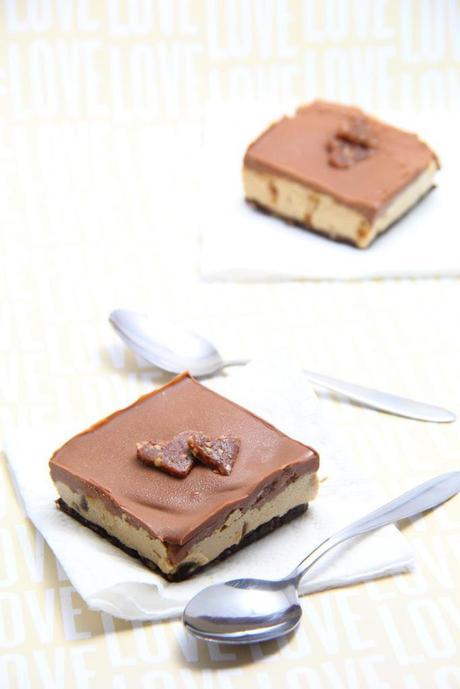 Makes two servings
20 minutes prep time, plus soaking and freezing time
Ingredients:
For the base:
2 x Cocoa Delight Nakd bars, roughly chopped
For the filling:
75g cashew nuts, soaked for at least an hour
7 dates, pitted and soaked for at least an hour
2tbsp almond milk
1tbsp tahini
1/4tsp vanilla extract
Pinch of ground sea salt
For the topping:
40g dairy-free milk chocolate (like this one)
1tbsp coconut oil
1/2 Berry Delight Nakd bar
Method:
1. Press the Cocoa Delight Nakd bar pieces together with your hands and, using a rolling pin, roll out them until they are 1/2cm thick. You may need to bring them together and roll out again a few times until they form a single piece that can be rolled out without any gaps. Roll out into a rectangle approx. 5cm x 10cm and place in the bottom of suitable container.
2. In a food processor, blend all of the filling ingredients together into a thick and creamy mixture. Scoop out over the base, smooth out the top, and place in the freezer.
3. Whilst the filling is in the freezer, roll out the Berry Delight Nakd bar and cut out four small heart shapes. Melt the chocolate and coconut oil over a bain-marie, stirring well. Once smooth and fully melted, remove from the heat and pour over the cheesecake filling. Place the hearts on top and return to the freezer. Freeze for at least ten minutes to allow the topping to set fully.
4. When you are ready to serve, remove from the freezer and container. Allow to defrost for around ten minutes, then using a very sharp knife, cut into two slices (tip: a sawing action works best to avoid cracking the topping), and serve!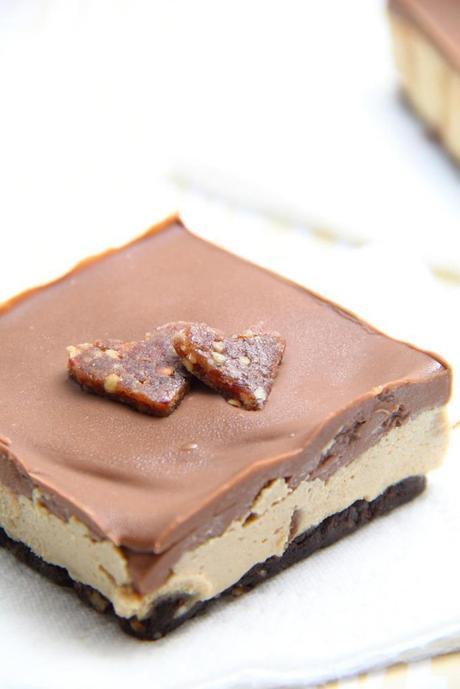 Looking for more vegan cheesecake ideas? How about these Zesty Matcha Cheesecake Bites?
What is your dream dessert?