We sure love Valentine's Day around here at American Art. On Friday, February 13th, we are hosting another SweetARTS and Valentines program where you can come to the museum all day to make handmade Valentines for loved ones (or for people you hardly know —we won't judge). This year, we have invited some of our friends at Smithsonian Gardens to join in the fun. They are going to be on site for part of the day helping folks make orchid corsages. Our in-house crafter and the coordinator of SweetARTS, Katie Crooks, sat down with the folks from Smithsonian Gardens to get some Valentine's Day-related plant information for our readers. Check out what they had to say.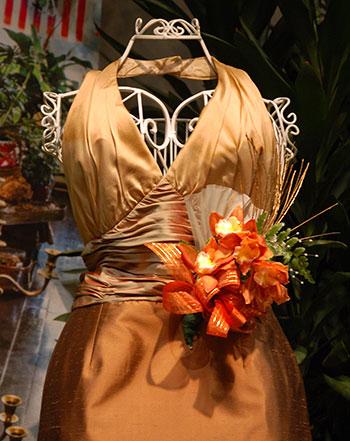 From the Smithsonian Garden's Orchid Exhibition at the National Museum of Natural History, up now through April 26.
Eye Level: Roses seem to be the stereotypical Valentine's Day go-to for gift givers, and some would call that classic and romantic. But some might find it predictable or uninspired. Do you have any suggestions for flowers or other plants that are good alternatives for the romantically challenged this Valentine's Day?
Smithsonian Gardens: Think outside the box for your Valentine this year. An orchid plant will not only convey your love but will also stick with your Valentine much longer than those fading rose blossoms. Orchids typically bloom for a few weeks to as long as several months! That is a gift that will leave an impression with the one you love. Check out Smithsonian Garden's Pinterest page for photos of our blooming orchid beauties.
EL: At SweetARTS and Valentines, horticulturists will be helping visitors to make orchid corsages (for a materials fee, while supplies last). Is it hard to work with orchids? Aren't they finicky plants?
SG: No, not at all. That is the misconception about orchids that they are fussy and finicky! The orchid plants that you find readily available in the grocery and big box stores are actually rather tough hybrids, very adaptable to the home environment. And in terms of the flowers we are using for corsages, they are pretty substantial, usually from Cattleya and Cymbidium plants.
EL: There are so many varieties of orchids, do you have a favorite? And is it true there are ones out there that have been genetically engineered to smell like chocolate (talk about a great flower for Valentine's Day)?!
SG: My favorites are definitely orchids with a lovely scent, and what is better than chocolate? The chocolate-scented orchid of course! With Oncidium Sharry Baby, you'll get that chocolate blast without the calorie consequences and, the flower is actually quite pretty.
EL: Smithsonian Gardens has an orchid collection, right? Is it available for the public to view? (I figure you can plug the orchid show with this question!)
SG: Yes, Smithsonian Gardens Orchid Collection is one of the largest orchid collections held by a public garden in North America. The collection is currently on view during the annual orchid exhibition held in partnership with the US Botanic Garden at the National Museum of Natural History through April 26, 2015.
EL: OK, one last question. Say a person gets a dozen roses for Valentine's Day (we'll say their partner is classically romantic), in your expert opinion, what is the best way to keep those flowers looking their best for as long as possible? (And can we apply this advice to other bouquets?)
SG: Roses will typically last as a cut flower for about one week. There are several steps you can take to help them stay fresh.
Upon receiving the roses, trim the stems underwater. This helps to prevent air from entering the bottom of the stems which can cause the flowers to deteriorate.
Use a clean, sharp knife or hand pruners and cut at a 45 degree angle. This allows the flowers to easily take in water and last longer. Keep trimming the stems every couple of days.
Remove the leaves from the portion of the stem that will be submerged in water. Leaves left underwater will rot causing bacteria to accumulate in the container.
Display in a clean container with fresh water and add some of the flower "food" that comes with the cut flowers. Adding a penny will also help to reduce bacteria levels. Remember to change the water every few days.