Season of Love!
In India, celebrating Valentine's Day with zest & zeal was the norm a few years back, but due to some political reasons, it got affected. Still, the magic of valentine hasn't gone and I am sure it will never, after all, expressing and celebrating love keeps the spirit alive.
Valentine's Day does not just belong to lovers, but to everyone who loves someone, that can be your friend, pet, teacher or even a parent.
So, have you decided on how to celebrate the V day? The gift is one of the most important things as it reflects your affection and bond. If you haven't decided or confused about gift selection, then check out the below gift ideas. I have considered the budget too, so it will not burn your pocket.
1)  Cushion + Soft toy + Photo magnet
This combo is perfect for gifting your loved ones. It has all the elements of love to make your valentine season more special.
The beautiful rose, greeting card, Cute Teddy with Love Themed Cushion Cover will cheer up your loved one every time they see this beautiful Valentine combo.
It is the most affordable and fashionable gift for your loved ones.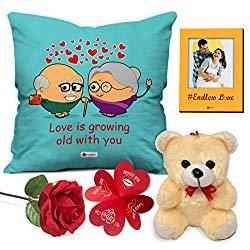 Click on the image to SHOP now
2)  Chocolate Gift Hamper
Well, who doesn't love chocolates, right! It will always melt your loved one's heart with sweetness.
It is packed with a delicious selection of tasty treats and cute soft toys.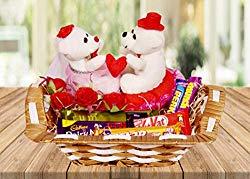 Click on the image to SHOP now
3)  Candles
Lighten up your room with these rose pillars & floating rose. Its fragrance will uplift the mood and is a perfect way to have a candlelight dinner.
These both types of candles having red color and rose fragrance have the property of no-smoking.
Not only is it an ideal gift for your partner, but also to others.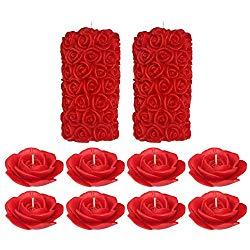 Click on the image to SHOP now
4) Set of Perfume, Watch, Wallet
The Gift set comes in a black packing box and contains a black and gold watch, wallet, Perfume & belt making it one of the best gifts for the man in your life. This luxurious set contains all men's accessories.
Same with men's, who want this type of gift set for their woman which comes in a Pink packing box.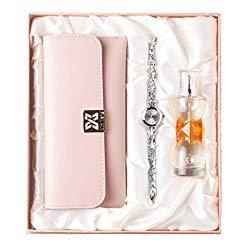 Click on the image to SHOP now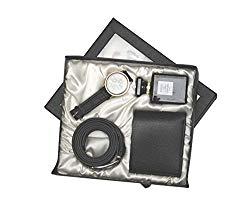 5)  Message in a bottle
Express your feelings with a message in a bottle. Easy personalization makes for a wonderfully unique and touching gift for her or for him. You can express and write anything for your LOVE.
Make your valentine special with these Messages in a Jar romantic vintage keepsake gift. It is the perfect vessel for delivering love letters, valentines.
Show your loved ones just how much you love and care about them with a Beautiful Memory Message Jar.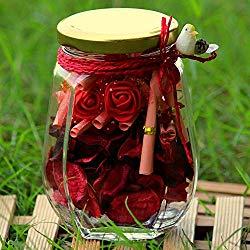 Click on the image to SHOP now
Need more ideas? You can also gift him
Books
Personalized mugs
Photo Frame
Grooming set
Card box
I hope the list will help you to choose the perfect gift for your loved ones. Enjoy the season of love and cherish the memories forever.
---
You May Also Like To Read:
Are you ready for Amazon Great Indian Festival?
Gift a piece of Love to your Man
---
*Disclosure: This post contains affiliate links and I may receive a small commission if you 
purchase through them at no extra cost to you.