Vale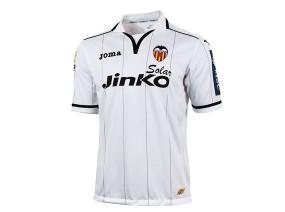 The Valencia 2012-2013 jersey (Joma)
Joma released Valencia's kit for next season and in it there are some slight, yet significant changes. For starters, the new jersey will have pinstripes for the first time ever. This new tweak in the design does not seem to take away from the tradition that comes with the white jersey.
The pinstripes are a symbol of the Valencian blood and they add a distinct as well as elegant touch to the jersey.
The collar as well as shoulders have a thicker set of lines as well as sponsors on the sleeves that offer it a distinct touch.
The jersey is made completely of polyester which in combination with its MicroMesh technology offers the player a way to remain cool as well as remove sweat from the body in the process. This feature is best seen in part of the body where there is the greatest amount of sweat (eg axillary area, sides, etc.).
LET US KNOW WHAT YOU THINK ABOUT VALENCIA'S NEW KIT.