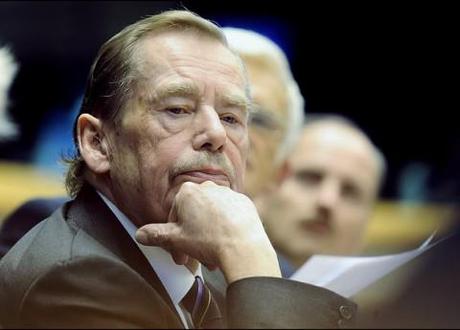 Vaclav Havel. Photo credit: European Parliament http://www.flickr.com/photos/european_parliament/4095341493/sizes/z/in/photostream/
Vaclav Havel, celebrated Czech playwright, political dissident and the founding president of what is now the Czech Republic, died on Sunday, at the age of 75. Tributes have flooded in for the man who led the country's "Velvet Revolution", which overthrew communism in November 1989, and who is widely regarded as a defining figure of late 20th century Europe.
Debunked communism's myths. An editorial in The Times (£) said "accidental politician" Havel did not post "an extensive record" of political success but secured "an enduring place in modern European history. He was neither prophet, saint nor philosopher. He was a brave man who insisted on truth and did not flinch from the consequences." The newspaper suggested his biggest achievement was "in fundamentally changing people's understanding of communism. The system of government that held sway over half a continent for almost half a century was not an alternative political system: it was organised deceit. The repressive methods needed to shore up those lies were not mere excesses: they testified to communism's inherent illegitimacy. And Havel had the courage and eloquence to speak of it."
"We had all become used to the totalitarian system and accepted it as an unchangeable fact and thus helped to perpetuate it," insisted Havel.
Epitome of a dissident, an European. "He was not just a dissident; he was the epitome of the dissident, as we came to understand that novel term," praised Timothy Garton Ash at The Guardian. "He was not just the leader of a velvet revolution; he was the leader of the original velvet revolution, the one that gave us a label applied to many other non-violent mass protests since 1989 … He was not just a European; he was a European who, with the eloquence of a professional playwright and the authority of a former political prisoner, reminded us of the historical and moral dimensions of the European project."
"Looking at the mess that project (Europe) is in today, one can only cry: 'Havel! Europe hath need of thee'," exclaimed Timothy Garton Ash at The Guardian.
Moral giant of eastern Europe. At The Independent, Steve Crawshaw, director of the Secretary-General's office at Amnesty International, said that Havel "served as a reminder that politics and dignity do not need to be in contradiction. He believed always in what might be achieved, including the seemingly unachievable. Vaclav Havel never felt confined by those who mocked such a grand canvas. He was a moral giant for eastern Europe. His example deserves to be remembered worldwide." Crawshaw admired how "even as Czech President, he continued to live in truth … What mattered to him was not power, but seeking to create change. It is tempting to think that Havel's vision comes from another era. That need not be the case. Moral backbone is – or should be – timeless."
'Cooler than a rock star.' Havel was "both a political and an intellectual hero. You couldn't say that of our politicians," sighed Ed West at The Daily Telegraph, who underlined just how unusual public figures like Havel are: "In politics, where more often than not vapidity and managerialism is rewarded, he was an unusual thinker-statesman. How many other politicians of his era had a Samuel Beckett play dedicated to them, or were genuine friends of leading musicians and poets? While the Communist leadership was ugly, old, predictable and pedestrian, its number one critic was cooler than a rock star."
More on Europe now

S&P's up stakes in eurozone crisis
Eurozone debt crisis: Are Merkel and Sarkozy rearranging deckchairs on the Titanic?
What next for Europe?
More in memoriam »