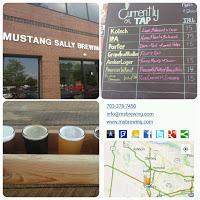 The Mustang Sally Brewing Company Kolsch has been getting plenty of airtime at local restaurants so when I noticed that Friday rush hour traffic was only mildly bad I Headed out to Chantilly. The brewery is located in a business\industrial complex very similar to Ocelot Brewing Company. The tasting area is spacious with corn hole playing all the time. The management are Virginia craft beer veterans with head brewer

Bret Kimbrough, the former head brewer of Vintage 50, and General Manager Dave Hennessey, the former head brewer of Old Dominion Brewing Company.


There were seven beers on tap for my visit and I chose a flight of their Kolsch, American Wheat, Porter, an IPA.  And as expected the Kolsch was excellent, followed in preference by the Porter - with the chocolate flavor melting through any mocha. The IPA was clean and balanced, whereas the Wheat was slightly bready with no banana flavor inducing yeast involved. I think I would have preferred a little more breadiness with this one. But overall, the Mustang Sally brews are solid. And as always theCompass Winery, Brewery, Distillery Locator Mobile App will guide you to these breweries. Cheers.