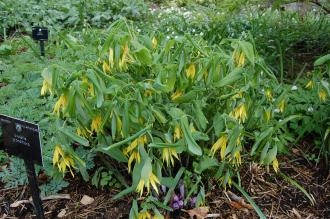 Uvularia grandiflora (23/04/2016, Kew Gardens, London)
Position: Partial to full shade
Flowering period: Mid to late spring
Soil: Moist, well drained
Eventual Height: 75cm
Eventual Spread: 30cm
Hardiness: 3a, 4a, 4b, 5a, 5b, 6a, 6b, 7a, 7b, 8a, 8b, 9a
Family: Colchicaceae
Uvularia grandiflora is a deciduous herbaceous perennial with an upright habit and arching stems. Its mid green leaves are elliptic to lanceolate with entire margins, up to 13cm long and 6cm broad. Its yellow flowers are bell shaped with twisted tepals, pendent, up to 7cm long and appear as terminal clusters. Its roots are rhizomes which aids its slow spread.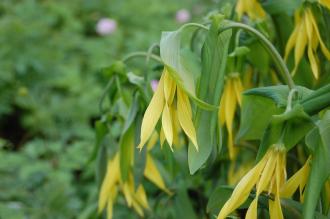 Uvularia grandiflora Flower (23/04/2016, Kew Gardens, London)
Uvularia grandiflora, commonly known as Large Flowered Bellwort, Bellwort or Merrybells, is native to east North America. In its native habitat it grows as an understory plant in deciduous woodlands.
The etymological root of the binomial name Uvularia is derived from the Latin uvula (the hanging piece of skin at the back of the throat), its flowers supposedly resemble this. Grandiflora is derived from the Latin grandis meaning 'large' and flora meaning 'flower'.
The landscape architect may find Uvularia grandiflora useful as an under planting perennial below deciduous, open shrubs and trees.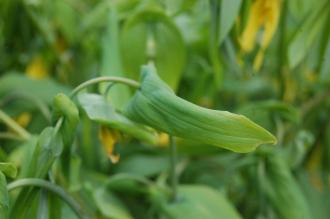 Uvularia grandiflora Leaf (23/04/2016, Kew Gardens, London)
Ecologically, Uvularia grandiflora flowers are attractive to pollinating insects.
The Royal Horticultural Society has given Uvularia grandiflora their prestigious Award of Garden Merit in 1993.
Uvularia grandiflora prefers moist, fertile, humus rich, well-drained soils. It tolerates most pH of soil, although it prefers an acid to neutral pH. It dislikes dry soils.

Uvularia grandiflora requires little maintenance. Large clumps ma be divided in early spring.


Landscape Architecture