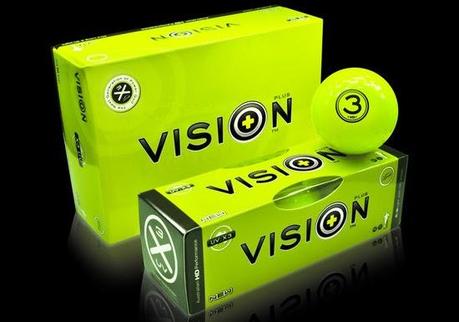 Buy a 3 Pack of Vision UV golf balls for $25.00
(Price includes shipping within North America)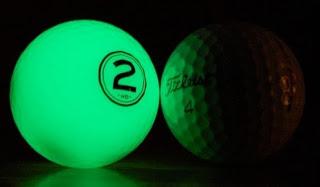 We're excited to be working with Australian golf designers Vision Golf to introduce their cutting edge products to North America and the rest of the world.  To kick things off, we're offering their new and innovative UV absorbing glow ball to our network.
This is hands down the best and brightest golf ball on the market today, making it easier for golfers to track their ball flight during daytime, evening or even nighttime rounds.
Using Vision's unique patented UV absorption process (U.S. Patent No. 7179856), they are able to achieve the maximum brightness for this ball.  The hi-tech, soft feel cover material used on this ball is exceptionally durable and extremely slick, thereby creating less drag in flight and greater overall distance. The UV Yellow trains golfers to watch the ball and makes it easier to follow the ball flight and see where the ball finishes. This speeds up play and gives players the confidence to improve and build on their golfing experience.
Several noteworthy features incorporated into Vision golf balls include:
Easy To See Number
. Players have mentioned on a regular basis that one of the main problems they have with current other golf balls is how hard it can be to identify them during play. Vision Golf asked their Test Pilots to trial a series of large number markings on the Vision UV Yellows. This has resulted in 2 large numbers appearing on each ball where you would normally find a ball's brand name printed, resulting in the easier identification of your Vision ball and the speeding up of play as a result.
Long and Straight
. Vision is dedicated to making advancements that help take your shots travel further and straighter than ever before. Their advanced Vision tek dimple pattern is but one of the design features creating the increased length and overall improvement in accuracy all Vision players have come to appreciate.
Multi Layer Power
. Through the use of multiple components, their product is consistently longer with driver and irons while retaining the great feel and memorable click sound that better players are always looking for.
Additional features also include:
Brightest UV Yellow Color with a brightening effect within the low friction Slickcoat finish.
Long Distance with Improved Shot Shaping Control.
Soft Solid Feel Overall Compression is 80/85 with a High COR due to Dual Cover Setup.
Flexi-Gel Mid Spin Blend Cover for added durability and unique premium soft feel.
Lower Driver Spin than most premium designs for longer, straighter drives and better wind performance.
Practical Iron spin levels for better shot shaping control into greens.
Unique "Real Straight" self correcting 312 dimple pattern
Comparison Products as a guide: Bridgestone E6, Titleist NXT Tour, Srixon TriSpeed Tour, Bridgestone B330RX Tour, Callaway HX Hot Bite.FEATURES:
About Vision Golf
Vision is 100% owned by the Bosley family from Australia with over 50 years of International Golf industry experience.  Vision brings to the golf industry the practical innovations in golf design from the productive long-term working relationship between the well known Australian father and son pairing of Bill and Wayne Bosley.
Their industry experience both playing at an International level and working for many of today's major brands gives them a unique insight into what might just make a real difference to a players game.