Today,  Chennai's team looked different ....  Brendon McCullum has  returned home for the birth of his child. He, Badree, Hilfenhaus, Ishwar Pandey are all out..   Pandey was not given the ball at all in the match against Bangalore and against Kolkatta, he had figures of 4-0-31-1.  Dwayne Smith had a new partner in  Faf du Plessis as his new partner.  Left-arm spinner Pawan Negi,  David Hussey came in, so did  John Hastings, who ?  - I have not heard of him...   my son immediately said he has played on Test
A search revealed that John Wayne Hastings hails from New South Wales and appeared in Test no. 2064 at Perth in Dec 2012 ~ that test is better remembered for the heroics of Amla who helped SA make 569 in the 3rd innings and SA winning the test by 309 runs. 
In the IPL, Morne Morkel (6), Dale Steyn (3)  are the bowlers  who have bowled at more than 150 kmph... but perhaps speed alone is not enough ......... Steyn has been taken apart in a couple of matches and today had the ignominy again.. in the last over he was taken apart by MS Dhoni.... it was 6-4-2-6-2-4 as he leaked 24  .. SRH leaked 68 off the last 5 overs ..........and set a target of 186....
In the earlier match KKR made 195/4 (Uthappa 83*, Shakib 60)  and beat Royal Challengers Bangalore 165 for 5 (Takawale 45, Narine 4-20) by 30 runs.  3 players have made more than 500 runs – Robin Uthappa today earned the Orange cap leading with 572 runs in 13 innings with 47.66 as average and SR of 137.50; below him are Glenn Maxwell (533-12); Dwanye Smith (501-13); David Warner (434-12); AB de Villiers 385 (12)
Uthappa has been a revelation ..... he mustered only 96 in 5 innings , at an average of 19.40 and a strike rate of 108.98 in the first leg at UAE as KKR did rather badly.... back in homeland Uthappa is on a roll scoring  392 runs in the India, when no other batsmen has managed to score even 300 runs.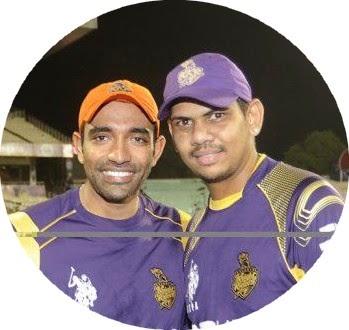 photo credit : iplt2o.com
KKR has done a great turn around and captain Gautam Gambhir is quoted as stating  he was satisfied but not surprised over his Kolkata Knight Riders' six-match winning streak which powered it to the playoffs of the Indian Premier League.  Firstpost states that the  southpaw also admitted that he wasn't superstitious but changed his jersey number thrice to get the rub of the green. "I am not a superstitious guy but still changed my jersey number thrice. Umesh (Yadav) told me to wear 77, Robin (Uthappa) told me to wear 23, though I used to wear number 5. But it is not about superstitious rather we sweated out for it," he said.


Chennai got another defeat .. as SRH grounded them  -  powered by a 45 ball 90 by David Warner,  unbeaten 64 by Shikhar Dhawan and their 116 partnership.




With regards – S. Sampathkumar