Industrial designer Ruth Lande Shuman, who founded the nonprofit Publicolor, expounds on color's emotional value.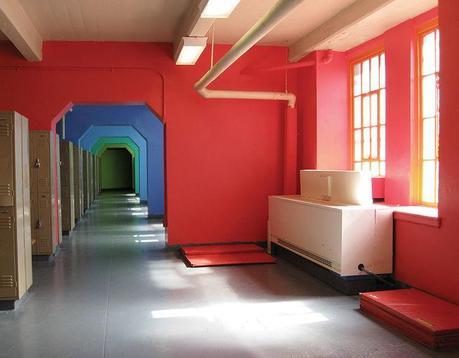 "When I was getting my master's in industrial design, color was what I always had the strongest response to. Color affects light, and therefore it affects how we perceive space and form. It's integral to design."  
Image courtesy of Publicolor.
What inspired you to create a school program focused on the use of color?
Ruth Lande Shuman: I visited schools in East Harlem, and every one looked like a prison. So I founded Publicolor, where students can transform their schools and communities by painting them vibrant colors and receive tutoring and mentoring in the process. I thought that if you put paintbrushes in kids' hands and let them change their environments, then they'll develop a sense of ownership and pride. And a life without color is, in my mind,
just devoid of energy.
Which colors are especially popular?
Shuman: Kids love blue. I also happen to love the yellow-green-blue chord. If you look at my colors, they all have a bit of a rounded edge to them. They can be energizing, but I don't want them to be aggressive.
What are your color influences?
Shuman: Luis Barragán. Also Sol LeWitt—I love that he took painting off the canvas and put it on the wall. And of course Gaetano Pesce, who was my adviser. We had many conversations about color in the built environment.
Can color be misused? 
Shuman: There are a lot of people who don't know what they're doing. They make a mess of things. To me, color is music. Are you going to use harmonious combinations or discordant combinations? We use color in a very thoughtful way to create harmonious environments.
 
Originally published
in  Modern Dreams as  Ruth Lande Shuman