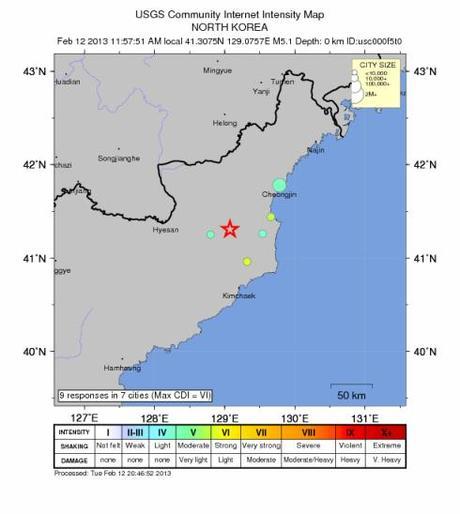 USGS Intensity map released on 12 February 2013 (Photo: USGS)
The United States Geological Survey [USGS] reported on 12 February (Tuesday) that it received nine (9) reports from the DPRK about the intensity of the seismic activity caused by the DPRK's third nuclear test on 12 February 2013.  According to USGS, the nine (9) reports came from seven (7) DPRK cities close to the earthquake's epicenter at the P'unggye-ri nuclear test facility.  They were part of USGS Did You Feel It? [DYFI] program which tracks and maps how human populations experience earthquakes and other seismic events.  Based on the USGS map, it received reports from Paegam County, Ryanggang Province and from Kilchu, Myo'ngch'o'n and Kyo'ngso'ng Counties and the city of Ch'o'ngjin in North Hamgyo'ng Province.  A majority of the respondents reported they experienced light to moderate shaking and no damage.
The question remains: who are the USGS' nine (9) respondents inside the DPRK?  In order to participate in DYFI, one needs access to the Internet to enter the requisite data.  Social and telecommunications control in North Hamgyo'ng is generally lax.  Among the possibilities are DPRK citizens with dedicate Internet connections or smartphones acting autonomously, Chinese or other foreigners working in the area (particularly Ch'o'ngjin) or a coordinated effort from Pyongyang to register technical data on seismic activity to external organizations.
Filed under: 12 February 2013 Nuclear Test, 2nd Academy of Natural Science, Administration Department, Central Committee, Central Military Committee, Civil Defense Department, critical infrastructure, DPRK Cabinet, DPRK External Relations, DPRK General Department of Atomic Energy, DPRK-United Nations Relations, east sea command, Financial Planning Department, General Affairs, gsd, gsob, Guard Command, internal security, Kilchu County, KJI Personal Secretariat, Korean People's Army (KPA), Korean People's Internal Security Forces, Korean Workers' Party (KWP), KPA construction battalions, KPA construction brigades, KPA East Command Zone, KPA General Staff, KPA General Staff Nuclear Chemical Bureau, KPA Large Combined Units, KPA supernumerary organizations, kpif, KWP Science and Education Department, land and enviroment, local people's committees, Machine Building Industry Department, military security command [msc], Minister of People's Security/KPISF construction units, Ministry of Extractive Industries, Ministry of Land and Environmental Protection, ministry of people's security, Ministry of People's Security engineering units, Ministry of State Security, Ministry of the People's Armed Forces (MPAF), National Academy of Defense Sciences, National Defense Commission (NDC), NDC Administration Department, NDC Policy Department, North Hamgyo'ng Province, North Hamgyo'ng Provincial People's Committee, Operations Bureau Department 10, Organization and Guidance Department, population control, Provincial Party Committees, Punggye-ri Nuclear Test Site, reserve training units, Second Economic Committee, Second Economy Commission, Secretariat, Six Party Talks, social control, State Academy of Sciences, State Planning Commission (SPC), State Security Department, Third Floor, transportation, tunnel construction, worker peasant red guard, Young Red Guard