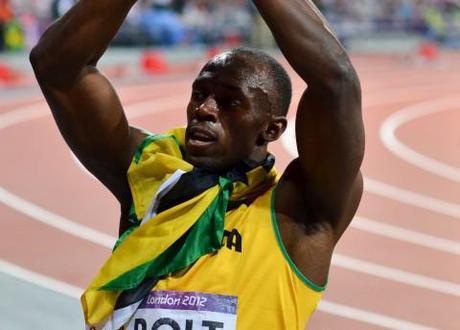 Usain Bolt celebrates after his 200 meter victory at London 2012. Photo credit:
Alexandre Moreau
The background
Well, it wasn't a world record – but that would have required beating his own fastest time.
Usain St. Leo Bolt breezed through the men's 200 metres sprint Thursday night in 19.32 seconds, securing a twin gold medal to his 100 metres victory on Sunday. The Jamaican superstar is the first athlete in Olympic history to retain both the 100 and 200-metre titles, after winning both in Beijing in 2008. He was joined on the podium by his fellow Jamaican teammates: Training partner Yohan Blake took silver, with young Warren Weir taking bronze.
What did Bolt do before the race? Got a shape up – check out his Instagram.
The three made a joyful, wandering lap around the Olympic arena after their clean sweep, stopping to hug virtually every fan bearing a Jamaican flag, mugging for cameras, and posing. But now: The aftermath.
"I'm now a legend. I'm also the greatest athlete to live," Bolt declared, after dominating the 200-metre race.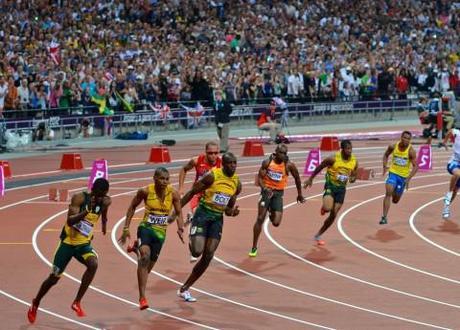 Usain Bolt in lane 7 at the start of the 200m men's sprint at London 2012. Photo credit:
Alexandre Moreau
Carl Lewis dubious, Bolt imperious
Former US Olympic track and field star Carl Lewis earned the ire of Bolt after hinting that Jamaica's drug testing was less rigorous than other nations. Lewis, himself one of only eight athletes to win both the 100 and 200 metres in the same Games, questioned Bolt's miraculous 100 metres time, saying – back in 2008, mind – "I think there are some issues. I'm proud of America right now because we have the best random and most comprehensive drug testing program. Countries like Jamaica do not have a random program, so they can go months without being tested. I'm not saying anyone is on anything, but everyone needs to be on a level playing field." Bolt hit back after his victory Thursday night, saying he'd lost respect for the "attention-seeking" Lewis.
"It's wonderful. Jamaica has proven that we are the greatest sprint country. I've got nothing left to prove. I've showed the world I'm the best and, right now, I just want to enjoy myself," Bolt told reporters. "This is my moment. I'll never forget this. Lane seven has been good to me these past couple of days."
Bolt says he's the greatest – and he is
Paul Hayward, The Telegraph's chief sports writer, was in awe of Bolt's massive talent, declaring, "The world's fastest man has run right through history's barriers." And he's just too cool: "From East to West, from China to London, Bolt has made the Olympics his own, stamping his character on the Games and captivating a global audience with his aristocratic running. At 6ft 5in, he is freakishly tall for a sprinter. His head now pokes above the clouds of his profession."
Bolt celebrates twitter-style
After spending two hours roaming the Olympic stadium track, talking to press, even grabbing a photog's camera to take his own Olympic snaps, Bolt took to twitter with a flurry of tweets. Here's what "the most naturally gifted athlete the world has ever seen" had to say:
I want to thank GOD for everything he as done for me cause without him none of this wouldn't be possible.

— Usain St. Leo Bolt (@usainbolt) August 10, 2012
Big yohan and warren my training team mates we say jam all the way. Big up the man behind the sense coach glen mills the genius.

— Usain St. Leo Bolt (@usainbolt) August 10, 2012
Thanks to all my real fans and people who believe in me. I am now a living legend that's for sure.

— Usain St. Leo Bolt (@usainbolt) August 10, 2012
Racers track club.3 athletes on the medal podium. Just epic. Congrats to Yohan & Warren on allowing me 2 share such moment with teammates

— Usain St. Leo Bolt (@usainbolt) August 9, 2012
To Jamaica the land of birth… Greatest country ever.. it's a greatest joy to represent the people of my home land

— Usain St. Leo Bolt (@usainbolt) August 9, 2012
To my mom and dad you all made this possible.. Infinite love for u both

— Usain St. Leo Bolt (@usainbolt) August 9, 2012
Bolt is certainly a legend – but can he really be called a "hero"? BBC commentators waxed rhapsodic about the Jamaican's feats immediately after his win, but we wonder: Isn't someone like Jesse Owens, the American athlete who won gold in the 100 and 200 metres at the 1936 Berlin Olympics, blowing Adolf Hitler's whole Aryan superiority theory out of the water, more heroic? Leave a comment!
More on Usain Bolt

Five things that you didn't know about Bolt
Bolt wins the 100-metre, cements legend status
Bolt's lightning fast lifestyle in pictures: He owns a cheetah!