John Kerry Solutions, Ltd.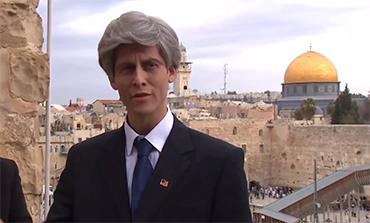 The Yesha Council in cooperation with a group called MyIsrael have been making videos called
John Kerry Solutions, Ltd
. in which they spoof John Kerry leading the peace process.
John Kerry Solutions, Ltd. has upset the US State Department.
According to
The Jerusalem Post
,
"I think it goes in with what I've already stated about attempts to mischaracterize [Kerry's] record, his position, his positions on issues, his statements, how that is not an attack on him; that's an attack on the process. And of course that kind of rhetoric we find unacceptable," State Department spokeswoman Jen Psaki said Wednesdays during a press briefing.
Psaki responded with evasive light-hardheartedness when mockingly asked by a reporter if Kerry believes that Jerusalem is a holy city to fictional species, referring to a segment of the spoof video in which the mock Kerry says theWestern Wall is holy to all religions, citing "Jews, Christians, Muslims, Buddhists, Klingons and Hobbits."
While avoiding a direct response, Psaki interjected her own feelings on the extraterrestrial humanoid warrior species from the science fiction show Star Treck.
"I love Klingons," Psaki said during the exchange.
Thoughts:
1. It must be an effective campaign if the State Department took notice.
2. #1 is surprising in light of the fact that Yesha Council is involved.
3. The State Department should really not bother commenting on a video that is just parody and is not connected to the government or represent any governmental position.
------------------------------------------------------
Reach thousands of readers with your ad by advertising on Life in Israel
------------------------------------------------------