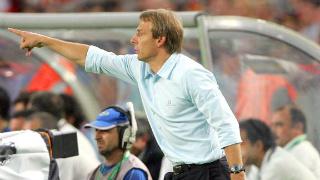 So Klinsmann was finally appointed as the new manager of the US national team. I had stated in part 1 of my US Soccer Needs Major Overhaul that Klinsmann should be the new USSF president and afterwards, I was asked who should replace Bob Bradley. Although the issue is moot, here are the candidates that I considered along with other names mentioned.
In my last column, I spoke about the changes US Soccer needed to make to improve their national team and the entire setup. I mentioned that Bob Bradley had to be fired but wasn't too sure on Klinsmann being his replacement. Well, the USSF finally decided it was time for a change and fired Bob Bradley which blindsided everybody, including Bradley. However, I stated my doubts about Klinsmann being the US national team manager in my column and argued that he should replace Sunil Gulati as the new USSF president.
Klinsmann's career as a manager after retiring from playing has been rather mixed. He got his way on how to run the German national team, even though not many folks were glad about it. He managed to coach Germany to the 2006 World Cup Semi-Finals and then did the wise thing by stepping down. Unfortunately, his stint as Bayern Munich's manager did not go well as he was dismissed in his first year. The devastating away loss to FC Barcelona which saw him switch goal keepers probably was the final straw that broke Uli Hoeness's back. He was dismissal was a bit unfair seeing as his side was only three points behind eventful Germany League champions, VfL Wolfsburg, with five games left in the season.
I believe Klinsmann was successful with the German national team because of his right hand man, Joachim Löw. Löw's era has Germany play in the Euro 2008 Final and 2010 World Cup Semi-Finals where they would lose to Spain both times. For USA' sake, I hope he has learned from his experience at both the national team and club level, especially the later. Working with Uli Hoeness should prepare him to work with USSF president Gulati.
The reason why Klinsmann was not picked as the US national team manager back in 2006 supposedly came down to he and Gulati not seeing eye to eye on some factors such as total team control. Klinsmann got his way with the German national team, even though there were grumblings from behind the scenes about that. One has to wonder how much Gulati ceded this time in order to hire Klinsmann. One big issue was Copa America. Klinsmann wanted to take a strong team to Venezuela back in 2007 while Gulati opted for a weakened team. The issue now appears to be moot thanks to CONCACAF forcing their teams to send a Under-21 or 22 team, with some veterans, along with the fact that the World Cup in 2014 will take place before Copa America, not after.
My proposal that Klinsmann should be president and pick a more experienced manager was met by questions from the readers about whom I thought was best suited to coach this team. Unfortunately, the issue is now moot but here are the candidates that I fancied for the job along with other candidates from some of my friends.
Guus Hiddink
I have been an admirer of Holland's Oranje football ever since I saw them win the European Cup back in 1988 when I was a child. So it's no surprise that I picked Guus Hiddink. His resume speaks for itself with a trip to the 1998 World Cup Semi-Finals after being eliminated at the Quarter-Final stages of Euro 96 that was marred with some controversy that lead to Edgar Davids being kicked off the team. There won't be a language problem like there is in England with Fabio Capello and Hiddink has strived in helping teams outside of UEFA in advancing to the knock out stages of the World Cup with South Korea and Australia. Hiddink also has history with the US after playing here back in the NASL days and admitted how much he loved his time in this country in the autobiography Going Dutch.
His stint in South Korea saw him not just focus on the National team but also the youth setup which is what the USSF needs to address. All the teams need to be playing the same style, regardless of what level they are at. His teams are known for playing attractive football and that is what the US team needs. However, with every candidate, there are some negatives and the ones that stick out are his inability to get over the Semi-Finals hurdle the last few decades. I also would be lying if I didn't admit that he has struggled ever since Euro 2008 where he failed to get Russia into the 2010 World Cup and his current side, Turkey, are not off to the best of starts and there were rumors of him leaving the Turkish national side for a return to Chelsea this past summer. Finally, his price tag would not be cheap either.
Marcelo Bielsa
This candidate looked great a month ago but now it seems less likely after accepting the coaching position at Athletic Bilbao. Bielsa has experience at the World Cup level where he coached Argentina to a first place finish in the CONMEBOL 2002 World Cup qualifications table. He also has coaching experience at the club side in Europe. However, I believe his biggest accomplishment was guiding Chile to the 2010 World Cup and getting them into the knock out stages.
Prior to his arrival, Chile had not qualified for a World Cup tournament since 1998 when Ivan Zamorano and Marcelo Salas were representing the national team. Chile's low point came in Copa America 2007 that saw them getting thrashed by Brazil 3-0 and 6-1 and saw six players get punished for breaking team rules. Thus, Bielsa walked into a job where players lacked discipline and had nothing positive to look back on. Nevertheless, Bielsa revolutionized the Chilean national team where they played some beautiful football and were actually first in the CONMEBOL qualification table before finishing second to Brazil by a single point.
I would haved loved to see what Bielsa could do with the US national team. Unfortunately, there are still some people who have not forgotten the fiasco of the 2002 World Cup that saw Argentina crash out of the competition in the group stages. Additionally, he is not exactly media friendly and there is a language problem since I have been told he does not speak English but there are enough players on the team who speak Spanish.
Luis Aragones
As a Barça fan, Luis Aragones has a soft spot in my heart as being one of those managers who had a managerial shot with club but only lasted a season. He helped guide Barcelona to Copa Del Rey success but stepped down and Johan Cruyff took over and the rest was history. Aragones is a veteran manager where he helped Mallorca become a tough team to beat in La Liga and managed to guide them to Copa Del Rey triumph. But Aragones's biggest accomplishment was ending Spain's long drought of failing at the big stage by winning Euro 2008 and laying the ground work for his successor, Vicente Del Bosque, to guide Spain to their first ever World Cup title.
What I admired the most about Aragones was his decision to drop the old guard and go with something new. It was not an easy decision for him to drop the likes of Guti and especially Raul and go with David Villa and Iniesta. Those players had just helped Real Madrid win back to back league titles so the Madrid based media were on his case. He learned from his mistakes back in the 2006 World Cup and that lead to him making new changes by getting rid of most of the old guard and saw Spain playing a different style of football which at times resembled Barcelona's under Guardiola. He also knew when to change tactics and adjust such as taking off Xavi and Iniesta against Italy in the Euro 2008 Quarter-Finals. There were some talk that some US players know that they positions are safe and perhaps Aragones is the man to make sure everyone competes for their position.
However, the factors against him are his age, the language barrier and his personality. He did come off looking like an ignorant or racist individual when he made some crude remarks to Antonio Reyes, then playing for Arsenal, about his teammate Thierry Henry. I know time heals everything but I don't think an apology was ever made and his other comment about Reyes being a gypsy makes Aragones look like the Spanish equivalent of Archie Bunker. I am not sure this country wants a manager making those sorts of comments in such a diverse country and national team setup.
Rudi Völler
Why not? If Klinsmann was going to run the USSF, then why not hire a fellow German to coach his team. Völler's track record as national team manager is rather mixed. He took over a German national team that was in dire need of being rebuilt following their shocking performance in Euro 2000 that saw them get eliminated in the group stage, along with England, to Romania and Portugal. Völler came in after then manager Christoph Duam was fired. He managed to guide his side that consisted of young players and veterans to the 2002 World Cup, via qualifiers, and got them to reach the final, before losing to Brazil.
Unfortunately, it was Euro 2000 all over again after Germany crashed out of Euro 2004 from the group stages and Völler resigned. He had a short stint as AS Roma's manager which lasted a few weeks before resigning and has never managed again with the exception of caretaker manager for Bayer Leverkusen. He is currently Bayer Leverkusen's sporting director. I don't see him coaching again but if Klinsmann was in charge, I think Völler would have been a good choice to work with him seeing as they were former teammates when Germany won the 1990 World Cup.
Carlos Alberto Parreira
This is another name that a friend of mine brought up when Bradley's firing was announced. Parreira is the only candidate on this list that has won the World Cup, which took place on US soil back in 1994. He returned to coach Brazil again in 2006 but could not duplicate his success and was criticized by relying too heavily on veterans that some believed were past it, such as Ronaldo. He has also had stints coaching Saudi Arabia and South Africa but could not get them past the group stage and South Africa became the first host nation to fail to qualify for the knock out stages under his watch.
Additionally, his style of play was a bit too negative or defensive for the likes of Brazil but it did deliver a World Cup. Based on the way the US has played under Bruce Arena and Bob Bradley, perhaps he could have been a good fit seeing as he would not revolutionize the side, just tinker with it a bit. I am not sure how good his English is so communication would be an issue.
Dunga
This is also another name that someone brought up when Bradley's firing was announced. He fits the same mold as Parreira, who selected Dunga as captain of the 1994 World Cup winning side. He is also a bit defensive so don't expect a lot of Joga Bonito but my friend did also point out that Brazil could have gone far in the 2010 World Cup had it not been for Felipe Melo. Just as I said above about Parrieria, Dunga perhaps would continue to have this team play defensively and try to improve them a bit. Communication would also be an issue if he can't speak English and has to speak to the few players in Spanish.
Jose Pekerman
This is a candidate that I recall many mentioning back in 2006 after Bruce Arena was no longer in charge of team USA. Although he has some experience at the World Cup level with, both the Argentinean youth and senior team, that's all the experience he really has and I don't see him as a good candidate. I have also been told that there is also language issues so don't expect him getting hired anytime soon.
Those were some of the candidates that I, and other people, thought were the best candidates for the job over the years. Klinsmann arrival ushers in a new era where the team will be managed by a manager who has no MLS experience but has good knowledge of US football. The big question will be whether he and USSF president Gulati will butt heads regarding the amount of control Klinsmann will be entitled too. He will have plenty of time to prepare for the World Cup via numerous friendlies, World Cup qualifiers and the next Gold Cup. Unfortunately, he won't have the luxury of taking teams to Copa America and the Confederations Cup that his predecessor Bob Bradley had. The next World Cup is three years away and Klinsmann will have three years to shape his project. The big question though will always be how much control will he have in shaping this project.