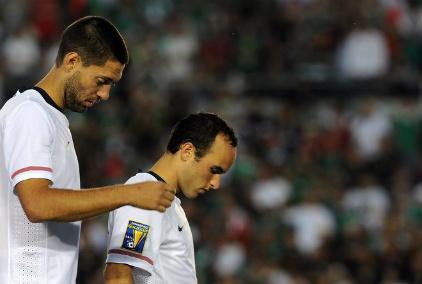 After another embarrassing defeat to Mexico in a Gold Cup Final to Mexico, US Soccer needs major overhaul from top to bottom if they strive to compete in the future. Bob Bradley needs to be fired and Klinsmann should be hired as the president, not the coach, of team USA.
I have never been a fan of Bob Bradley as the manager of the US national team. I think he is a great guy but he does not seem to be the right man for the job and the warning signs have been there for the past few years. His first challenge was coaching Team USA for the 2007 Gold Cup. He had replaced Bruce Arena as the national team manager following World Cup 2006 and was successful in capturing his first major trophy when team USA defeated Mexico 2-1 in a tough match that saw Mexico finally end their long drought of not scoring on US soil. At the time, Mexico found it tough to win on US soil and even score a goal against their sporting arch rivals. However, the warning signs for me that the United States Soccer Federation (USSF) did not act in the team's best interest appeared afterwards when team USA participated in Copa America with a squad missing its best players and it showed.
Although they did manage to pull off a small shock when they took the early lead against Argentina, they failed to hold on that lead or take advantage of it by conceding four unanswered goals in a 4-1 loss. They then lost 3-1 to Paraguay and then 1-0 to Colombia to exit the competition as the worst side in the competition. US and non-US fans were upset that Bradley did not field a strong team and take advantage of playing in this competition. With all due respect to the Gold Cup, it simply is not a competition filled with teams that possess world class players. This would have been a good test for the US but they instead opted to allow some of their stars to play for their teams in MLS which was in full swing.
Fast forward to 2009 and USA had two big competitions in the summer. FIFA Confederation's Cup and the Gold Cup. For once, it seemed that USA was not taking the Gold Cup seriously. Bradley, or the USSF, opted to save their starters from participating in the Gold Cup for the FIFA Confederations Cup. They were getting ready to face against the World cup champions, Italy, Brazil and Eygpt. Things were looking good for team USA as they took the early lead against Italy but were then forced to play with 10 men for the last 15 minutes of the first half after Ricardo Clarke's red card. Italy scored three goals and the US suffered a 3-1 loss and for the first time in ages, USA lost after having a halftime lead.
There weren't many complaints from the fans since it's never easy to play a game down a man but there was some concern regarding tactics from Bradley in view of the fact that it seemed the team did not have a clear plan. Were they supposed to keep possession or just hoof the ball down the field and park the bus? It would be harsh to complain about the coach's tactics when you are down a player. Many thought the Brazil game would be key since another loss would probably end their chances to advance to the knock out stages. This would be the first clear example of Bradley's bad coaching regarding lineups and tactics. His thought process leaves much to be desired but playing Beasley, who was out of form, cost Bradley and his team as USA found themselves down 2-0 at the half. Things got worse when Kljestan was sent off in the second half and Brazil scored another goal to win 3-0. Oddly enough, there was a sense of optimism since Egypt defeated Italy and thus USA had to defeat Egypt and hope Brazil defeated Italy and leave it up to goal differential to determine who would finish second and move on to the next round.
When USA defeated Egypt 3-0 and moved on to the Semi-Finals after Brazil defeated Italy by the same score, all those complaints were put on the back burner or were slightly forgotten. US then pulled off one of the biggest sporting upsets in team history when they defeated defending European champions, Spain, 2-0, and moved on to face Brazil again in the finals. However, it was obvious for the most part that Bradley has a plan A that works most of the time if everything goes according to plan. However, if things don't go according to plan, then Bradley has no plan B. I never was a fan of Bradley's, and his successor Bruce Arena's, plan on trying to score on counter attacks. Bradley's success had come down to goals being scored from dead ball situations such as free kicks, corner kick and penalties and then grab another from a counter attack. The idea of possession football seemed implausible. Now, I was not asking for tika taka football but at least a style of football that allows you to have possession. Call me crazy but I think teams that can dominate possession means that they can dictate the game. Sadly, the final against Brazil would show that was just the case.
If there ever was a game that had Red Flag written all over it, then this was it. The final started off magically for USA as they were up 2-0 after 27 minutes into the game and entered the interval without conceding a goal to Brazil. Most would have thought that the game would be over right there or at least, it was USA's game to lose. Unfortunately, it would be the latter as Brazil capitalized on having most of the possession and scored three goals to come back and win this game. It was a heart break for USA to come so close and lose it. Of course, many were trying to be positive about this result and were proud of the guys to get this far. I thought that was the wrong approach. The "Atta Boys" pat on the back was not what this team needed. Martin Rogers of Yahoo Sports was one of those cheer leaders insisting first that the US national team was to be feared after defeating Spain and then ignoring the bad after losing in the final by pretending Bradley had learned from his mistakes.
Some though were disappointed with how the US lost this game. His team never once had the majority of the possession in the final, let alone in any of the other games, especially the last three games of the competition where they did not finish the game with 10 players. Additionally, Bradley's lineup choices, substitutions, and tactical adjustments were questioned after this tournament, especially with his late reaction after Brazil had wiped out a 2 goal lead. Nevertheless, people seemed happier that USA got this far than with the finished product. The Gold Cup coming up later was going to be another indicator that Bradley was not going to escape criticism.
USA was attempting to capture a three-peat of the Gold Cup. Bradley, or the USSF, opted to save their starters from participating in the Gold Cup after starring in the FIFA Confederations Cup. The decision didn't seem bad at first since team USA made it all the way to the finals. However, his opponent was Mexico who were being coached by El Vasco Javier Aguirre who finally made fans forget the teams managed by previous managers, Lavolpe and Hugo Sanchez, by fielding a team that consisted of youth and veterans that seemed focused and determined.
After a scoreless first half, Mexico scored the opening goal from a penalty and it was all downhill for the US as Aguirre outcoached his counterpart Bradley and Mexico ran riot by scoring four more goals to win the Gold Cup final 5-0. What should have been a warning sign for USA fans was met by shrugs and some discarded the loss by saying their C-team lost regardless that this was Mexico's B-team where some of the players would go on to represent Mexico in the World Cup in 2010. Again, no plan B from Bradley cost his team and poor decisions overall came back to haunt him.
Rewind to last summer's World Cup in South Africa. USA were grouped with England, Slovenia and Algeria. US grabbed a fluky goal from Dempsey to erase the early goal that USA conceded to England for a 1-1 draw. The opening goal came as a result of England gutting the heart of US through the middle of the field before Dempsey's fluky goal. Slovenia must have taken notes because they marched on to a two goal lead in the first half by doing the same thing. Once again, Bradley's tactics back fired but he re-adjusted at the half by bringing on two substitutes and got it right with the US coming back to tie it and should have won it if not for some dodgy officiating decision that disallowed a game winning goal. For once, Bradley got it right with his tactics.
Things were looking good as England was struggling by playing to a scoreless draw against Algeria. USA needed a win to advance to the next round and that they did when Donovan scored in injury time and US were top of the table. For once, team USA was looking good when it came to playing with possession but then again, this was against Slovenia and Algeria. Whatever optimism USA and its fans had as they prepared to face Ghana was gone after 5 minutes when Kevin-Prince Boateng scored after Ghana gutted the heart of the US by attacking down the middle again, as did England and Slovenia, and although US grabbed an equalizer, via a Donovan penalty, they struggled to get genuine scoring chances and lost in extra time to Ghana. For the third time in the World Cup, the US had conceded an early goal and had to play catch up.
The defeat was tough to stomach with some believing that the team could have done better and that lied with Bradley and his decision making. Many were upset that he started Ricardo Clark who was responsible for making an error that lead to Ghana's opening goal. Clark was replaced midway through the first half and Bradley made another substitution at the half and thus only had one substitution left for the remainder of the game. Bradley was deemed by many as the scapegoat for this disappointing loss and many thought it was time for him to go. Nevertheless, USSF signed him up for another four year.
Last night's loss to Mexico in the Gold Cup final further showed how Bradley is not the right man for the job. In the past, USA being up 2-0 against Mexico was nothing short of a win. Yesterday's result, coupled with a poor showing overall in the Gold Cup, showed that things have gotten worse under Bradley after watching his side give up four unanswered goals. Scoring from dead ball situations and relying solely on counter attack is not the answer. When you give the other team more possession, then you are asking for trouble, especially with a poor back four. Mexico ran all over USA and were clearly the better side last night while Bradley resorted to the same mistakes of wrong substitutions and wrong tactics.
This is not only Bradley's fault and perhaps he should stop enjoying the luxury of the position that he has enjoyed since 2006 and resign. USSF are also to blame for all that has happened. I cannot understand the decision of not having USA play in Copa America. If your arch rival is doing it and gaining a benefit from it, then perhaps USA should take advantage of it. Sadly, CONCACAF has stuck their noses and will not allow Mexico to send a strong team to Copa America from now on which is a shame and the same will happen to the US national team if they ever decide to take part in Copa America in the future. US playing in the Gold Cup with some friendlies against B teams from Scandinavia with a few rare friendlies against the heavy weights on US soil is not enough.
Additionally, changes have to be made and that starts with getting rid of USSF president Gulati. There isn't enough pressure to force him to step down and that is why the fans are also to blame for USA's underachieving. USSF is satisfied with the status quo of making it to the World Cup which they will probably will for World Cup 2014. Don't be that fooled by this past Gold Cup. USA can win their games at home and grab a few draws and perhaps a win away to qualify. The problem is making this team better. The talent is there but it is not used to its full potential and there is nothing worse than watching wasted talent.
After USA were eliminated from the 2010 World Cup, former German national team player and manager, Jürgen Klinsmann, went on a rant on ABC/ESPN criticizing the whole set up of the US national team. Many soon argued that he should have been given the national team job back in 2006 but I think he should be the one in charge of the USSF. Klinsmann did well with Germany by taking them to the semi-finals of the 2006 World Cup, but I think some of the credit belonged to his then assistant and current German national team manager, Joachim Löw. Klinsmann's vision in how to setup the German national team though is a success but as a manager, he did not fare that well at Bayern Munich following soon afterwards and there is no guarantee that the same would not happen with the US national team if he was to manage the team without Joachim Löw at his side.
However, he has the right mind set for the job of USSF president. One of the reasons why Klinsmann did not get the USA job back in 2006 was because he was wanted too much power and control and that is something that the USSF will never relinquish. Supposedly, he wanted to take a strong team to Copa America back in 2007 but found out it was not going to happen and decided that he did not want the job. His rant on ABC/ESPN had many valid points such as the development of the players in which he described as the US having the pyramid designed upside down. The current structure is not that bad but needs to be improved.
Klinsmann has lived in the US for many years, since his wife is from the US, so I can't think of anyone else who should run the USSF and he should be offered that position. He can pick his own national team manager who shares his views and focus on making the changes needed from the youth setup to the types of games and competitions the US national team should be participating. Sadly, the changes that the US setup needs to further improve will never be implemented because of the politics that are involved in this sport. You don't believe me? Then look no further than the recent FIFA elections. USA was screwed out of hosting the World Cup 2022 by losing out to Qatar. So what did USSF and Gulati do? They went ahead and voted for Blatter to continue as president of FIFA. Perhaps being nice might come back to help US win a future World Cup bid thanks to that old saying "you can catch more flies with honey than vinegar" but I think they should have sent a clear message that the old system needs to be changed instead of voting for it.
The USSF is a mess that will continue to tease the fans with their decisions but this is where the fans have to hold themselves accountable. If you are content with the status quo, then by all means, expect the low expectations and satisfaction of just happy to be there. Fans need to make their voices heard and demand change but I don't think that will ever happen. I am not even sure most know where their headquarters are located (Chicago) but in most other countries, there would be protests going right now in front of the USSF building. It seems that the US fans are just going to have to tolerate the bad for now.