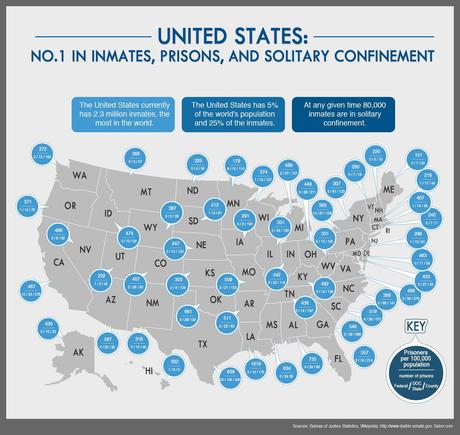 U.S. Incarceration Rates & Prison Statistics Infographic by Prison Path
If you enlarge the image you'll see that Louisiana has by far the most prisoners. Considering that they do not have the most people, the rate of incarceration there is incredible. Yet, they also rank number one in murders and violence. How can this be?  The gun-rights fanatics tell us the problem is not with the lack of gun laws but with the fact that we don't keep dangerous people in prison long enough.
Obviously this isn't the case in Louisiana.
It is true that many of those incarcerated shouldn't be there.  But the estimate of non-violent drug offenders is only about 25%. Remove them and the US still wears the crown as the most prison-friendly country in the world and Louisiana still holds the state record.