The United States Postal Service (USPS) is now doing more for a sustainable future by not only providing eco-friendly packaging, delivering on climate change, and actively reducing their footprint; but they have now introduced 'Go Green' Stamps.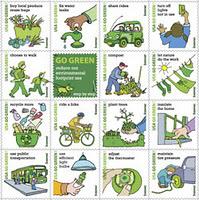 usps.com/green
These 'Go Green' stamps are a series of 16 new stamps designed as shown on the image to illustrate different practices we can adopt to protect the environment. Amongst them is that of a child (top right) trying to 'turn off lights not in use', that of a hand weather stripping a window, recycling, fixing water leaks and more. 
It is important not only to use these stamps because they are the latest in the market, and look great; but to follow the practices they so vividly portray. Sharing a ride for example is one of Absolute Green Energy Corporation's best practices, and we are currently working with the Worcester Sustainable Business Leaders Program to find out how we can as a company reduce our impact on the environment. So we can say that we are on track to meeting all these 16 practices.  
Other best practices to be sustainable when mailing is to use 100% recycled paper, and card boxes for your mails, and packages respectively. Walk to the post office if close by or use the mail drop boxes in your area. Avoid printing emails unless necessary, and why not email instead of writing a letter. Visit www.usps.com/green and read more about these exiting new stamps.