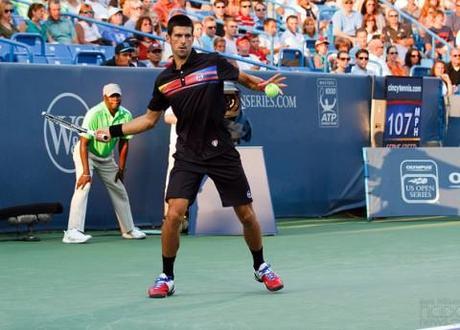 Novak Djokovic. Photo credit: Mirsasha
Novak Djokovic defeated Rafael Nadal 6-2, 6-4, 6-7 (3), 6-1 in last night's scintillating US open final. The "mind-blowing" match lasted 4 hours and 10 minutes, leading The Los Angeles Times's Bill Dwyer to compare it to a Shakespearean drama. Certainly, it was Djokovic who was master of the lines last night. "Decent club players watching had to marvel at how one rally could produce seven or eight shots that would be lifetime treasures for them", he said. Yet the storyline of this particular play is getting a little repetitive for Nadal. He has now lost six matches in a row to the younger Serb, all of them in finals this year. What does Djokovic's victory tell us about the balance of power in men's tennis?
Greatest season ever? Djokovic's victory extended his record for this year to 64 wins and just two defeats. Three major titles (all bar Roland Garros) have been captured in 2011 alone. Karen Crouse argued in The New York Times that the introduction of Djokovic to the pantheon of tennis' all-time greats is no longer in question. Just one year ago, when Nadal beat Djokovic in the US open final to claim a career grand-slam of Majors, debate raged over whether the Spaniard or Federer should be labelled the "greatest player of all time". Now, with Djokovic closing in on McEnroe's 1984 record season of 82 wins to 3 losses, discussion has shifted to whether the Serb is in the midst of "the all time greatest season."
Remarkable transformation. Unlike his two main competitors, Djokovic is neither beautiful to watch, nor muscular and stylish, according to Filip Bondy of The New York Daily News. "He bounces the ball way too often before serving and he peers up at the entourage in his box for approval sometimes like a fifth grader." All the same, he's quite a different player from the "whiny, unfit Djokovic we knew not many years ago, the one who would quit on himself when the tide ebbed." In 2008, he let the partisan and raucous crowd at Flushing Meadows get under his skin in a match against Andy Roddick. Last night he kept his nerve in the face of similar cat-calling during points. It's all about confidence and a positive attitude, said Djokovic. Come the semi-finals and finals of previous major tournaments he would wait for others to make mistakes; this year something "just clicked in my head … I'm going for it".
Trouble for Rafa. Rafael Nadal, who has showed Roger Federer how to win Grand Slam Finals in the past, showed him how to lose them last night. Prompted to speak of Djokovic's medical break, and the day less he had to prepare for the match, he batted away all excuses. "We are starting the press conference in a bad way, I think," he said. "Let's talk about the match. It's not the right moment to find excuses …I think he [Djokovic] did great, no?" Demonstrating a pettiness unworthy of his magisterial game, Federer had suggested that his loss to Djokovic in the semis was down to a "lucky shot at the end." A "lucky shot" that John McEnroe described as one of the greatest of all time. Nadal faces a tough challenge getting over his Djokovic block, even his English turns troubled and fatalistic on the subject. Speaking at a pre-match conference he had said "This year, I have lost the last five matches against him. Five finals. This will be the sixth." Jorge Castillo wrote in The New York Times that Rafa's public acknowledgement of his inability to crack Djokovic's game is rare in an "individual sport where mental fortitude is so important."