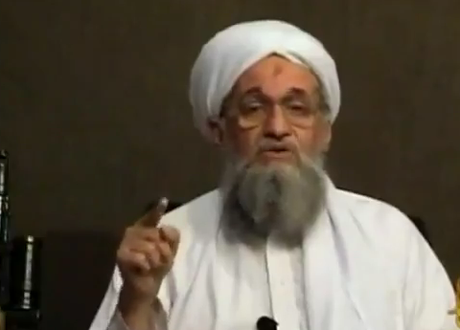 New Al Qaeda leader, Ayman al-Zawahiri
Osama bin Laden, the erstwhile leader of Al Qaeda, is dead: a turning point in the campaigns against terrorism. The CIA have been battering Pakistan and Afghanistan with drone operations for seven years, leading US counter-terrorism officials to say that, without its charismatic leader, Al Qaeda in Pakistan "may be on the brink of collapse". But other fears remain.
Yemen is now the problem. Al Qaeda in the Arabian Peninsula is "nowhere near defeat," said a US Senator, Saxby Chambliss on The Jerusalem Post. But when it comes the core leadership in Pakistan, "we have made the kind of strides that we need to make to be in a position of thinking we can win."
Expansion of campaign. "President Barack Obama has steadily expanded the clandestine US campaign", explained The Washington Post, against the Yemeni group, with "a secret Persian Gulf airstrip" built "for armed CIA drones". However, "recent setbacks, including a botched US military airstrike on American-born radical cleric Anwar al-Awlaki, underscore the difficulties that remain."
Pledge of allegiance. Well, said The Daily Beast, there's still signs of life: "a 10-minute audio message was posted on Islamic websites" declaring Al Qaeda's Yemen affiliate "pledging loyalty to bin Laden's successor, Ayman al-Zawahiri".
Beyond bin Laden. "[W]e have eliminated a number of generations of leaders," a counterterroism official told The Washington Post. "They have not had a successful operation in a long time. You at some point have to ask yourself, 'What else do we have to do?'"
Don't get complacent. Al Qaeda's "affiliates are independent and self-perpetuating," said Alex Wilner on The National Post. Just because bin Laden's dead, doesn't mean the organisation won't stop planning attacks. It's "just published another issue of its English-language journal advocating 'do-it-yourself terrorism', while Somali and Pakistani militants have propagated their message among diaspora communities. The goal is to attract Western recruits. Al Qaeda may be down, but it isn't out. Despite last week's outrage in Oslo, it would be a mistake to reprioritize our counterterrorism efforts."
Secret weapon. Meanwhile, reports Damian McElroy on The Daily Telegraph, Al-Qaeda have come up with a secret weapon: a cartoon strip featuring terrorists. However, "there was strong criticism of the cartoons on internet forums for jihadists. Users complained they made the scarf-wearing fighters look too 'scary' for children."
More on terror

What Anders Behring Brevik's Olso terror attacks mean for Norway and Europe
Bombs rock Mumbai
Hamid Karzai's brother killed
New Al Qaeda leader named