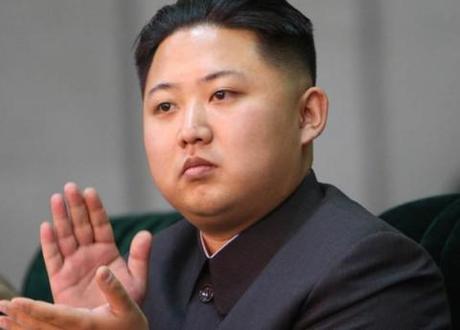 Kim Jong-il's successor, Kim Jong-un. http://guyism.com/lifestyle/so-the-new-possible-leader-of-north-korea-might-be-a-gamer-dork.html
Envoys from the US and North Korea met on Thursday for the first time since the death of the Hermit Kingdom's Dear Leader, Kim Jong Il, in December, and the ascension of his son, Kim Jong Un, to power.
According to Reuters, U.S. Special Representative for North Korea Policy Glyn Davies said his negotiations with North Korean envoy Kim Kye-gwan, largely centering around food aid to North Korea, were "serious and substantive", but refused to go into further detail. The talks, taking place in Beijing, are "the Obama administration's latest effort to gauge whether Pyongyang's new leadership is willing to curb its nuclear activities and return to disarmament negotiations," the news agency claimed. They are the first since relative unknown Kim Jong Un took power and the third aimed at restarting denuclearization talks.
But attempts to convince the isolationist regime to abandon its nuclear weapons programme have been in a holding pattern since talks broke down in 2009, well before the senior Kim's death: So what can the US hope to achieve this time around? And are things different in the Hermit Kingdon now that the younger Kim is at least nominally at the helm?
"Moat of distrust". Negotiations were expected to continue into tomorrow and if they succeed, they could move forward dormant efforts to engage in full nuclear disarmament talks. But, as Reuters noted, "there is a moat of distrust to cross before North Korea and the United States and its allies get there." In 2005, North Korea agreed to an aid-for-disarmament trade after talks that brought together North and South Korea, the US, Japan, China and Russia; but the deal was never fully sealed and North Korea, ever capricious, went ahead with its nuclear testing – as well as with frequent threats against its neighbour, South Korea.
North and South Korea are still technically at war – the two only signed a truce ending the 1950 to 1953 civil conflict, not a peace treaty. The US still maintains a presence of around 28,000 troops in South Korea, while China-backed North Korea always has a friend in the other global super power.
North Korea denounces other nuclear talks. Meanwhile, North Korea dismissed an international nuclear security summit to be hosted in South Korea next month as a "childish farce" and an "intolerable grave provocation", The Chicago Tribune reported. South Korea invited its former other half, on the condition that North Korea renounce its own nuclear programme. North Korea was not amenable. What that sort of behavior says for the future of disarmament talks isn't great: "Experts, however, doubt the North's new leadership has any intention of giving up its pursuit of nuclear weapons because it sees them as a deterrent against attack and a negotiating chip."
What counts as progress? That's what The Wall Street Journal's Korea Real Time blog asked ahead of Thursday's meeting. Expectations are low, as both sides gauge the other's willingness to talk and strategic positioning, and as the US keeps a weather eye out for any indication the Pyongyang's position has changed under the new Kim. "If North Korea quickly agrees to the conditions the U.S. has set for providing food aid, even as quickly as at Thursday's meeting, it will be a sign that Kim Jong Eun is confident enough to do something different from his father…. If the food issue remains stalemated, it's unlikely the U.S. or anyone else is going to come to the view that Pyongyang is really willing to move forward and discuss the thornier issues of nuclear weapons, proliferation and disarmament."