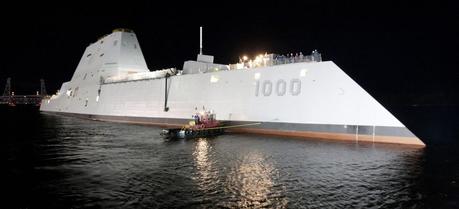 The USS Zumwalt (DDG 1000) after floating out of drydock, 28 October 2013. (Credit: U.S. Navy)
The U.S. Navy christened this month the USS Zumwalt, the largest stealth destroyer ever built for the naval service and its first modern all-electric warship.
"Traditionally, the U.S. Navy powered its ships with gas turbines driving controllable pitch propellers through large and complex gearboxes," says Mark Dannatt, director for naval business at GE Power Conversion and a retired Royal Navy Captain. But the new next-generation destroyer and two others in the same class will have on board a 78 megawatt power station supplying electricity to an advanced integrated power system (IPS).
The "innovative and highly survivable" system, which was designed by Dannatt's business, powers giant GE induction motors connected directly to the propeller shafts. It also routes electricity to a vast array of sensors, weapons, radar and other critical systems on board. "By getting rid of the gear box you can free up as much as 80 percent of the ship's power that used to be dedicated to propulsion," Dannatt says. "You can now send it wherever you need it very quickly. By economizing on the amount of machinery you also save a lot of space in the ship."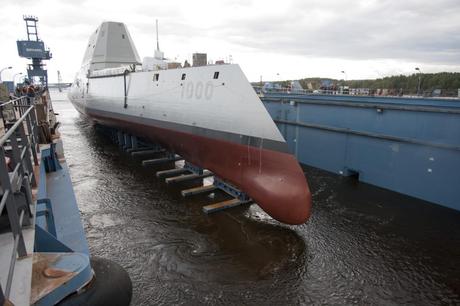 The USS Zumwalt (DDG 1000) in a dry dock at the General Dynamics Bath Iron Works shipyard in Maine. (Credit: U.S. Navy)
Dannatt says that by simply reversing the direction of the rotating magnetic field in the motor, for example, the shaft can turn in the opposite direction to give astern power.
The stealthy 610-foot long USS Zumwalt, named after the late Admiral Elmo "Bud" Zumwalt Jr., is the Navy's most advanced multi-mission destroyer. The Navy estimates that the 15,600-ton ship can hit target at a range of more than 60 miles.
The ship, which was built at the General Dynamics Bath Iron Works in Maine, has a wave-piercing tumblehome design and unique superstructure that make the stealth destroyer less visible to enemy radar at sea.
GE has been supplying electric propulsion technology to the shipping industry for a century. The Navy's first electrically propelled ship, the aircraft carrier USS Jupiter, was commissioned in 1913.
GE Power Conversion technology is also operating on board of the USS Makin Island, the Navy's first hybrid-propelled ship. Similar technology is also runs inside the Royal Navy's Type 45 Destroyer class ships and numerous offshore, passenger and cruise vessels, including the Queen Mary 2.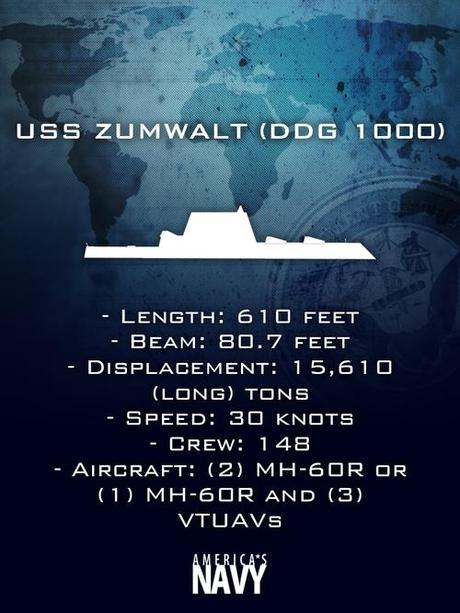 An informational graphic depicting the USS Zumwalt (DDG 1000). (Credit: U.S. Navy / Mass Communication Specialist 1st Class Arif Patani)