Oshie Netted Four Goals in six Attempts in Overtime Shootout Win Over Team Russia Saturday at the 2014 Winter Olympics in Sochi
A 2-handicap, Oshie Recently Reached out to Breed Via Twitter and has Modeled and Crafted his Golf Swing From Watching The Golf Fix on Monday Nights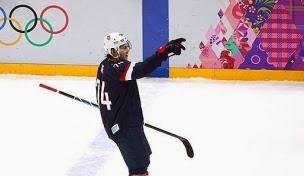 ORLANDO, FLA., Feb. 17, 2014 – The Sochi Olympics come to tonight's The Golf Fix (7 p.m. ET on Golf Channel) when host Michael Breed (2012 PGA Teacher of the Year) will relate hockey to golf through instruction with a hockey stick on tonight's new episode. T.J. Oshie, member of Team U.S.A. who netted four goals in six attempts in a dramatic overtime shootout to defeat Team Russia 3-2 Saturday at the 2014 Winter Olympics in Sochi, has been modeling and crafting his swing by utilizing tips from Breed every Monday by watching The Golf Fix.
On tonight's show, Breed will show viewers what Oshie does on the ice that translates to the golf course. Breed also will dissect Oshie's hockey swing – and his golf swing – during the course of the show.
Oshie, a 2-handicap, has been playing golf since he was six. He recently reached out to Breed via social media for assistance on improving his golf swing. Breed will officially invite Oshie to Golf Channel's Orlando studios for an in-studio lesson on an upcoming The Golf Fix episode.