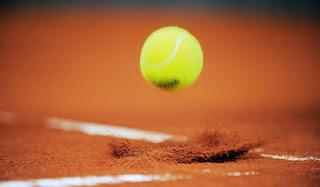 The volunteer kick-off for this year's U.S. Men's Clay Court tournament was last night - and I was there! Once again, I'll be driving for the tournament and living vicariously through whoever ends up in my car. Since this is my second year volunteering, I am seen as a "seasoned" veteran who can help the newbies figure it all out. I'll take my prestige anyway I can get it.
So the line-up for this year is, in my opinion, quite fantastic. The top eight seeds are:
Mardy Fish (USA) - won the tournament in 2006 and won in doubles in 2002 when partnered with Andy Roddick
John Isner (USA) - entered the ATP Top 10 this year and played great last year
Feliciano Lopez (ESP) - got a wildcard, LOVE this guy after watching him play in Davis Cup
Juan Monaco (ARG) - also got a wildcard, just crushed Mardy Fish in yesterday's Sony Ericsson Open in Key Biscayne
Marcel Granollers (ESP) - won the tournament in 2008, also love him after Davis Cup
Kevin Anderson (RSA) - got the last wildcard, won a tournament in Delray Beach earlier this year putting him in the ATP Top 30
Carlos Berlocq (ARG) - drove him and his sweet family around last year
Alex Bogomolov, Jr. (RUS) - I saw him play last year but he never was in my car so I don't have any scoop on him - yet
Besides former champs Fish and Granollers, Ivo Karlovic, winner in 2007, will be back (Yay!!) and last year's champ - Ryan Sweeting - is returning.
And Sam Querry will be there! And James Blake! And, of course, the incredible Bryan Brothers who have won this tournament in doubles four times including the last three years in a row. And their always fun coach and dad - Wayne Bryan.
So this year I plan on taking lots of photos and shooting some video. I start driving next week so stay tuned!

© Kim Selzman 2012 All Rights Reserved