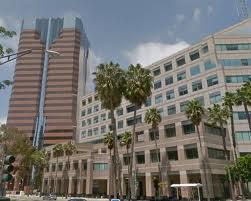 Yahoo News reports
A U.S. Immigration and Customs Enforcement agent is dead after gunfire at the agency's offices in a California federal building.
In the incident at the Glenn M. Anderson Federal Building in Long Beach, Calif., an ICE agent allegedly opened fire on two colleagues, leaving one wounded with multiple gunshots, another unharmed, and the initial shooter dead, ICE told ABC News.
Earlier, multiple published reports citing the Long Beach Police described a second agent dead and the third wounded, but those reports were mistaken, ICE said.
The incident began as an unspecified dispute between a supervisor and a subordinate.
This story is a perfect illustration of the problem which exists among lawful gun owners. Some of them are hidden time-bombs. It would be very difficult to identify them before something happens, but that is exactly what gun control is all about.
Through better screening and qualifying, many of the worst cases can be disarmed before they cause damage.  This applies to cops and civilians alike.
What's your opinion? Please leave a comment.