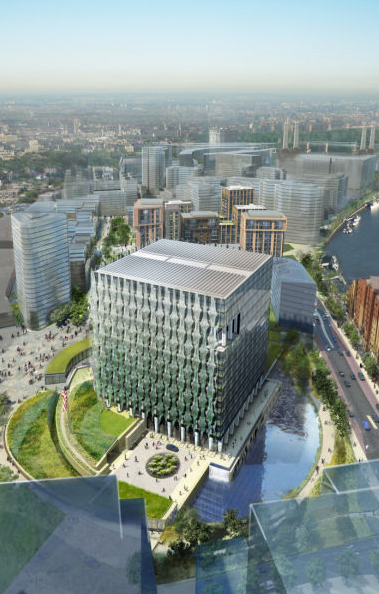 New US Embassy at Nine Elms
The new US Embassy to be built in Nine Elms, London gained outline planning permission in 2009. The design was finalised in February 2010 and it is expected to open in 2016.
The building itself is to replace the existing  Eero Saarinen's embassy is Grosvenor Square and will consist of a glass cube.  It has been designed by American architect Kieran Timberlake who was appointed following winning a competition for its design. As well as Kieran Timberlake the winning design team included Olin as Landscape Architect, Arup for Sustainability, MEP/FP and Civil Engineering,Weidlinger Associates for Structural and Blast Engineering, Gensler for workplace design, Davis Langdon for Cost Consulting, and Sako & Associates for Technical Security.
Kieran Timberlake commented on the design of the building:
"The expressive challenge is to give form to the core beliefs of our democracy – transparency, openness, and equality – and do so in a way that is both secure and welcoming. At the same time, the building must confront the environmental challenges all nations face with leading edge sustainable design."
The US Embassy gardens development will include 2,000 homes, a plaza, a 100-bedroom hotel 600,000 square feet of office space and 130,000 square feet of retail space with restaurants and other amenities. The building itself will contain gardens both within and and outside its structure. Its surrounding park is being designed to be a visually appealing protective barrier for the embassy and the American government have imposed strict design constraints on the surrounding area.
The proposed US Embassy development is on old industrial lands at Nine Elms and is a key site within the 195 hectare Vauxhall, Nine Elms, and Battersea Opportunity Area. The investment and development company Ballymore group has submitted plans for a masterplan of the surrounding area at Nine Elms. The application was a hybrid application consisting of a detailed design for phase one of the development (which included the US Embassy) and an outline application for a wider fifteen acre site. The application was handled by a group of architectural practices led by Sir Terry Farrell.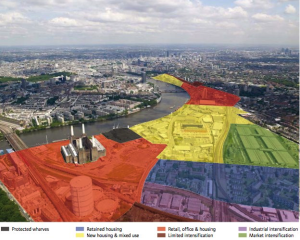 Vauxhall, Nine Elms, and Battersea Opportunity Area
Sir Terry Farrell said: "After the Square Mile to the east and Westminster to the west, the Southbank is central London's 'third city'. At Nine Elms, we have the opportunity to extend the cultural realm of the Southbank still further, creating a new urban quarter for London and unlocking the potential of the complete South Bank.
The developer expects work to begin on the US Embassy as early as next year and may begin before construction starts on the new spur of the Northern Line tube.