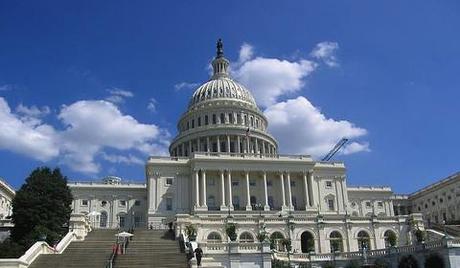 Not so sunny days on Capitol Hill. Photo credit: Will Palmer
The US House of Representatives passed the debt ceiling deal – the one that doesn't make anyone happy – on Monday, with the Senate expected to follow suit on Tuesday. But though the deal may postpone an American default on its debt, it may not actually alleviate the threat of a credit rating downgrade or any of America's long-term problems, analysts say.
The debt deal calls for an immediate $400 billion increase on America's $14.3 trillion debt ceiling, the Congressionally-imposed legal limit on government borrowing, ensuring that America won't default on its immediate debts coming due and won't be forced to stop payment on government benefits, such as Social Security and Medicare, or on federal salaries. Another $500 billion increase is expected in the coming months. At the same time, the deal wants the government to cut $2.4 trillion in spending over the next 10 years; this will be a two-step process, with $900 trillion being cut initially, and the formation of a committee charged finding $1.5 trillion to trim from the deficit. The deal does not include tax hikes, not even for the wealthiest Americans, after Republicans fought tooth and nail against them.
Obama pushes for bipartisan deal:

But while Americans might be relieved that the political wrestling over the issue is finally coming to an end – and that veterans and grandparents will still get their benefits – this is a deal that no one likes, not the least economic analysts.
"I think the threat of a downgrade is still very much alive," Peter Cardillo, chief market economist at Avalon Partners, a New York-based financial services firm, told Fox Business, adding that he puts the chance that the world's largest economy will lose its AAA credit rating at 70 percent. Ratings agencies have been warning for weeks that the US risked a credit downgrade if it couldn't get its act together, though they haven't commented on this last-minute deal; now, analysts and observers worry that the damage has already been done.
Too little, too late. Just like university students fuelled by coffee and Red Bull, Congress worked into the wee hours to slap together a deal before the August 2 deadline. "The question, with these last-minute rush jobs, is whether the finished work can possibly get a good grade. And it will be graded," observed Stephen Foley at The Independent. The current deal already falls short of what credit ratings agency Standard & Poor's said was optimal for keeping the country's AAA rating and what's more, America's economy is smaller than it had been and has yet to recover from the recession. That doesn't bode well, Foley noted: "The US finances, already shaky, look weaker by the day."
What would a debt downgrade mean? Besides being embarrassing, what exactly is the harm in a credit rating downgrade? Well, it's not a good thing, say Wall Street Journal staffers.
Good news for Asia? HIS Global Insight's chief Asia-Pacific economist, Rajiv Biswas, was seemingly comforted by Congress's tentative deal, enough to claim at the BBC that it "may stave off US sovereign ratings downgrades". That, coupled with the fact that default now seems to be off the table, spells good news for Asia, which depends on the US as a key market for its exports: "The debt deal has, therefore, taken one of the two key risks to the global economy in the second half of 2011 off the table. This is one major piece of good news for the Asia-Pacific economies, which have been facing headwinds from the economic crisis in the US and Europe during the first half of 2011."
International reaction: Glad to have a deal, but downgrade threat remains. Japan, second only to China as America's largest creditor, Germany, and Australia welcomed the last-minute deal, but remain worried that Washington still isn't dealing with the long-term problem of its sovereign debt and efforts towards deficit reduction. Michael Fullilove, of Australia's Lowy Institute for International Policy, told Reuters that Washington's handling of the crisis hasn't exactly inspired confidence: "The fact it was about such a simple matter as paying your bills I think will raise questions in the minds of observers overseas," he said. "I think it is damaging for the Americans over the long term. It is not the best way to impress the world with your adroit politics and diplomacy, that's for sure."
That's what Twitter's for: Missouri Democrat Emanuel Cleaver's "sugar-coated Satan sandwich" has taken on a life of its own – on Twitter. @SatanSandwich attacks the hippies in the liberal media, advocates wrapping the poor in bacon and feeding them to sharks, and says he saw Afghan President Hamid Karzai "lighting up a blunt over in Adams Morgan."
Blame the Republicans. Though much of Monday's comment focused on Obama's "caving" to the pressure, some of Tuesday's comment looked at Republican culpability in the whole issue. A theme? Republicans held America hostage. "House Republicans were prepared to wreck the economy with a default unless they got their way. They had a hostage, and they were prepared to shoot," the New Jersey Star-Ledger reminded in a leading editorial. "Americans should remember that in November. And it's not just the tea party that did this — mainstream Republicans, including the entire New Jersey delegation, stood firmly with the tea party and its extremist agenda." This debt deal is a "weak substitute for a grand bargain that could not be struck because Republicans refused to budge on taxes", a "puny answer to a big problem".