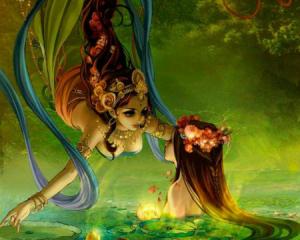 Yes, by nature I have always been a very strong individual mentally, emotionally, and even physically. I have also always been a loner yet I have never been and have never actually walked alone.
I have always been very well-liked by others and I was always able to make friends very easily yet never desired to associate with undesirables who became fond of me only those of my class or level would I choose to allow into my circle if I were amicable enough toward them or interested, however, I was never the type that wanted or needed to be around a crowd as I always found confidence and contentment within myself and within my surroundings no matter where I went.
I held my own ground and had preferred the solitary style of my own nature.
Those who I did become sociable with, depending on exactly who it was because different personalities can also bring about the innate variety that is within ourselves, we had stayed in touch but didn't have to constantly make contact with one another, although, others do often tend to reach out more to me because they are attracted to my aura and find that they can communicate with me in many ways that they are unable to communicate within others in specific and because I am a fun person to be around but for the most part because I am genuine and unique.
I appreciate people who think 'big' and that are able to exchange significant and challenging ideas with me, individuals that are not afraid to climb that 'higher ladder' unto infinity, reaching that anomalous spectrum unbounded by restriction, those that have that natural drive and enthusiasm because I am not just a talker or a thinker but I am a doer, a person who makes and demands change.
Like I have said before, I've always had people who truly cared for me and that had looked out for me other than family and some who have even went out of their way for me because I was indeed worth it yet the majority of them who weren't on the level never really knew me for the individual that I actually was as I was never one that was average or ordinary.
Just because people spend time hanging around our presence does not at all mean that they exactly know us all that well.
Insecure individuals as well as those lacking within particular knowledge would rather define us for who they want us to be instead of accepting us for who we authentically are as human beings personality that distinguishes character, ability and all.
Some if not most people in general take for granted and assume what others are like under certain circumstances due to their own limited view of perception and experience within the inner or outer scope of things.
Nothing counts more than self awareness and discovery, the realization of the reality that is around the very structure of one's very own foundation and direct source of information.
First hand experience is the best hand to learn from, not only to undergo but to properly interpret what we come to know.
As children born of the caul or children that are very spiritually inclined and "in tune" with the universe around us we have a radar that is very well within and beyond the range of frequency, allowing our 'spiritual antennas' to receive and transmit energy to the highest and magnificent of degree.
Except for ourselves, other individuals looking at us from the outside cannot see what we are surrounded by around ourselves.
I'll say it again, I have never been and have never walked alone even when I did not know it, my ancestors and spirit guides have always been there beside me watching over me and providing for me through fashions of arcane communication and relation.
I can recall so many accounts of occurrence, times when I was in the midst of danger and they had come to save my life and/or had prevented serious injury and harm from being done unto me.
One that I'll end with, though, pertains to the night my dining room was filled with the presence of a large group of my deceased relatives (the place where I had kept one of my altars at the time) and the strong bond that was felt there between us all along with the love and the security. They were all there gathered together in my home all able to visit and to spend moments of vital family union. Only the good members of the brood were allowed to come through.
Later on that night, after they all had left, one of my other deceased relatives had arrived to an empty setting and I was able to see him clearly and a voice had said to me "That's Uncle Lee".
I had said to myself, "Oh maybe that's just a made up reference", because sometimes foreign entities will come through or those that I am not familiar with to say things that I can't put together or that just have no purpose that I am not immediately cognizant of, however, this was no foreign spirit messaging me that night I later found out.
I happened to mention the incident to my mother, what I had heard, and the description of the apparition that I saw, and she acknowledged to me that the man's name was indeed "Lee" (a name that I'll use instead of his real name because I am very protective and respectful toward my ancestors and I don't share certain things that are sacred between us), he was her uncle, her mother's brother and that he would always arrive to gatherings late after everything was over and after everyone had already gone.
Everything that my mother had described to me about my great uncle from his physical demeanor down to his character traits in which I had visioned and had felt within him through my own sight had astonishingly coincided with what my mother had told me and I had never seen this man before and we had never discussed him.
One thing that I know is that I am so proud to have him as a part of the family along with the others who are around me and who all will never let me ever walk here on this earth alone or without their love, guidance and protection.