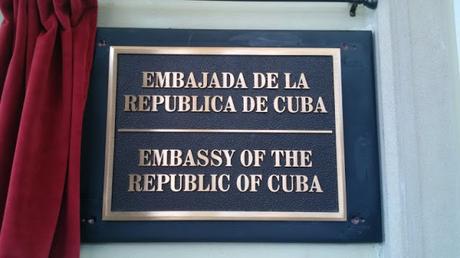 (This photo of the Cuban embassy sign is from CNN.)
This seems to be happening under the radar, with little news coverage -- but it should be a moment for celebration. On Monday, the Cuban and United States embassies opened for the first time in many years.
Cuba opened their embassy officially in Washington, DC, and raised the Cuban flag. The American embassy also opened for business in Havana -- but they are delaying the official raising of the American flag until August 14th, when Secretary of State John Kerry visits Cuba.
I am happy to see this happen. Now the United States Congress needs to take the final step, and end the silly 50 years long embargo of Cuba. It has not worked, is not recognized by other nations, and still serves as nothing but an embarrassment for the United States.