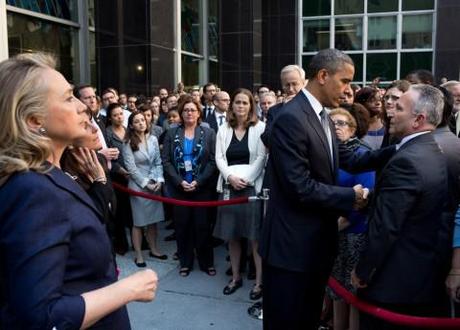 Obama and Clinton greet State Department employees after the death of Christopher Stevens in Libya. Photo credit: Pete Souza, White House photographer
The background
Four Americans were killed during an attack on the American consulate in Benghazi, Libya, on Wednesday, including Ambassador Chris Stevens. The attack was fueled by anger at an American film mocking the Prophet Mohammed, portraying him as a thug, a philanderer, and a child molester.
An angry, armed mob stormed the consulate, and set it on fire. One report claims that Stevens, 52, and the three other Americans were killed whilst trying to escape the consulate in a vehicle: The car was struck by a rocket-propelled grenade, then surrounded by gunmen who shot the two Marines and press officer, Sean Smith, dead. Stevens was dragged out of the vehicle by a group of Libyans, according to one report, and taken to a hospital. But circumstances remain unclear, and exactly who is responsible for the killings – Gaddafi loyalists, ultra-conservative Muslim insurgents, al-Qaeda, or any one of a number of other groups who would have exploited popular anger against the film as cover for an attack – is also unclear.
http://www.state.gov/outofdate/bios/193075.htm
It was one of worst security breaches of an American mission in recent memory; President Barack Obama immediately ordered increased security around other American diplomatic posts in volatile areas and released a statement condemning the attack praising Stevens and the three other Americans.
"The brave Americans we lost represent the extraordinary service and sacrifices that our civilians make every day around the globe," President Barack Obama said in a statement. "As we stand united with their families, let us now redouble our own efforts to carry their work forward."
But as the protests spread, now to Yemen, where a mob reportedly stormed the US consulate in Sanaa, and Cairo, where protesters burned an American flag, commentators wonder whether the Arab Spring is turning sour and indeed, deadly, for America.
Who was Chris Stevens?
"Chris Stevens was the antithesis of the ruthless, bombastic, culturally insensitive American diplomat whose stereotypical image haunts the pages of bad fiction and, all too sadly, the minds of his atavistic killers," Harry de Quettevile wrote at The Telegraph of the ambassador. A former Peace Corp volunteer in North Africa and fluent in Arabic, he was primarily concerned with the welfare of the people in Libya; he was "authentic" and full of "jovial enthusiasm", and, since beginning his mission to Libya in Benghazi on April 5 of last year, wanted to put his experience to work for the people there. "Now that talent has been snuffed out. It is the Arab world's loss as much as America's."
Western powers at fault just as much as power-jockeying insurgencies
Simon Tisdall, writing at The Guardian, declared that toppling Col. Muammar Gaddafi, Libya's longtime dictator, was "the easy bit". Now, "responsibility [for the killings] may also be traced back, directly or indirectly, to those in London, Paris, Brussels and Washington who launched last year's Nato intervention in Libya with insouciant disregard for the consequences." And "Iraq-style implosion" or "Afghan anarchy" is the likely outcome: "Once again, the western powers have started a fire they cannot extinguish."
Killings a wake up call, bad news for Obama
Con Coughlin, writing at The Telegraph, actually (sort of) agreed with Tisdall: Deposing a dictator, whether through force or on a wave of popular frustration, was never going to bring stability to the region. Said Coughlin, "[T]his tragic episode certainly brings into stark relief the dangerous currents that are swirling beneath the reform movements." This was a symptom of the "impending backlash" against Western involvement in Middle East and North African affairs, and it's going to be a problem for Obama's re-election chances: He might not see a second term "unless he can come up with a convincing means of tackling the new generation of Islamist extremists in the Arab world."
The US cannot run away now
The killings in Libya seem to be the work of a small group of radicals using the popular anger over the film as cover for terrorist acts, The New York Times said in a leading editorial. As such, it's important for the US to remains involved: "The worst thing now would be for the United States to turn away from its commitments to work with Libya and Egypt as they try to build stable new societies. A number of Libyan security guards died trying to save the Americans, and Libyan leaders have condemned the killings and promised to work to apprehend those responsible. Egyptian leaders, inexplicably, have not followed that lead."
President Barack Obama and Secretary of State Hillary Clinton's remarks on the attack in Benghazi: