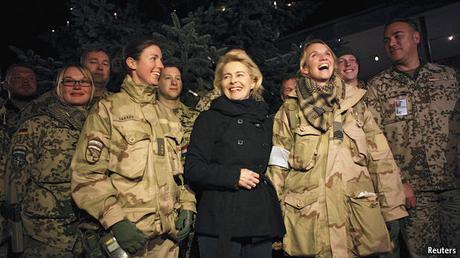 Camouflaging her ambition
URSULA VON DER LEYEN strides into her office without a minute to spare, straight from parliament, which just gave her a mandate to send six reconnaissance jets to fly over Syria and a frigate to guard a French aircraft-carrier. In the evening she wants to be on her country estate near Hanover with her husband and seven children. Then it is off again to Afghanistan to encourage the German soldiers. But no matter how harried, she insists on lighting an Advent candle on her table before starting the interview with her trademark smile. Atmospherics matter.
"Every generation has its chancellor, and in my generation that is Angela Merkel," she says. It is her stock phrase whenever she is asked—and she is constantly asked—whether she wants to succeed her. The question keeps coming up because no one believes the ambitious defence minister aims for anything less. It has also become more interesting as Germans start looking beyond the Merkel era.
As recently as the summer the chancellor, in her tenth year in office, appeared a shoo-in for the next federal election in 2017. But in this autumn…