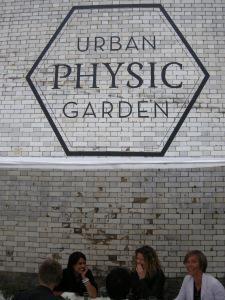 Urban Physic Garden
After joining the Urban Physic Garden Facebook group and promising to grow some Lemon Balm and Fennel, I was invited to attend the opening of the said garden. Although we are rapidly approaching mid-summers day, the weather was not as pleasant as it could have been, the threat of rain lingered in the air. Fortunately this did not dampen the atmosphere. The Mojito's were flowing, the band (well DJ) was playing and people we exploring this new temporary garden space.
This pop up community garden located on a patch of neglected land at 100 Union Street, near London Bridge, is the group effort of a collective of architects, designers and volunteers. This is the third garden design for this location, the first being Southwark Lido and the second Union Street Urban Orchard. This year's theme is the Physic Garden with a focus on medicinal plants ant things hospital and pharmaceutical. The majority of materials used to build this project were of salvaged origins.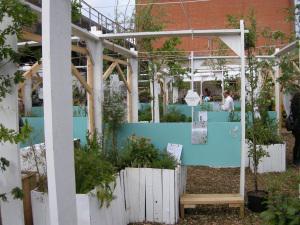 Urban Physic Garden Wards
 The landowner, Lake Estates Limited, has bought into the philosophy of this project and has given it permission for it to exist. They realise that there is an opportunity for projects to take place on vacant plots land prior to it being given planning consent for development.
In London and other cities in the UK there are numerous vacant plots of land which lay dormant and unused, often for years. These spaces, with an element of leadership and co-ordination and the involvement of local communities can be turned into temporary vibrant gardens that give light relief from the often grey urban fabric of our cities. This type of project, due to its community involvement, can also help to strengthen community ties and create safer neighbourhoods.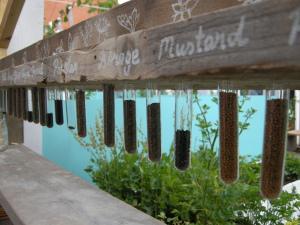 Urban Physic Garden Seeds
 I can appreciate that all developers may not be as enlightened as Lake Estates Limited. They may be nervous that once a garden is established and becomes a well used facility of the community, the occupants may become resentful at giving it up.  The Urban Physic Garden landowner has no concern should development need to progress as this project is scheduled to take place only over the next two months. This type of approach seems to be sensible as the land is occupied only for a couple of months thereby minimising any risk to the developer, users of the garden know it will be available for a fixed period of time, and if the plot of land is available the following year the community bonding event can take place all over again.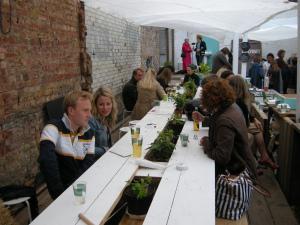 Urban Physic Garden Bar
This garden is open from 11th June 2011 to 15th August, opening hours are yet to be confirmed. There is a range events being held in this space over the coming two month focusing on medicinal and herbal topics.