Urban Jungle Bloggers is a monthly series hosted by Igor and Judith to encourage us all to bring a little more green into our lives. Each month they, plus many bloggers worldwide, share ideas to create an urban jungle through styling ideas, DIYs and green tips & tricks.
February's theme is hanging planters which are a big trend right now but I remember their last outing in the 70's – mainly hanging by means of macramé holders. Now I did google macramé but it looked like some form of slow torture, involving a lot of fiddly knots, (no, not Fifty shades of Grey) so decided to give that a miss and think of other ways around hanging my lovely greenery.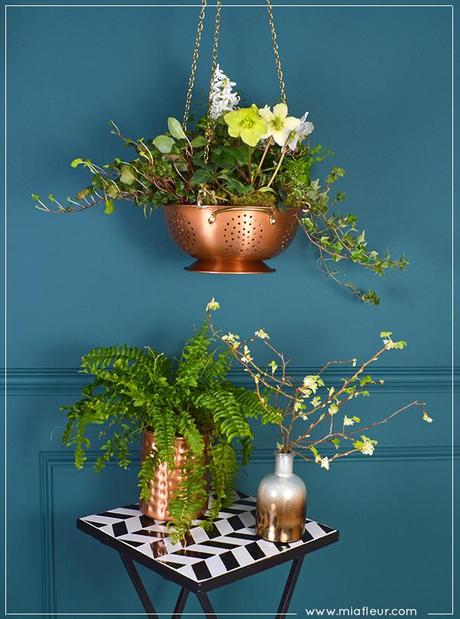 Copper and brass are a great contrast to greenery and as warm metals are trending I thought I would use my fab copper colander as a hanging planter, and my goodness was it easy to do, no Girl Guide knots for me!
I bought some brass chain, a large hook to hang the chain from the ceiling and a pack of three small hooks to attach the chain to the colander then cut the chain to three equal lengths and slotted the chain onto the hooks. Then for the fun bit of filling the colander with gorgeous plants and packing some moss round the rim to cover the soil. I used three small ivies, a white hyacinth bulb, a frothy fern and a small white hellebore for a lovely spring planter.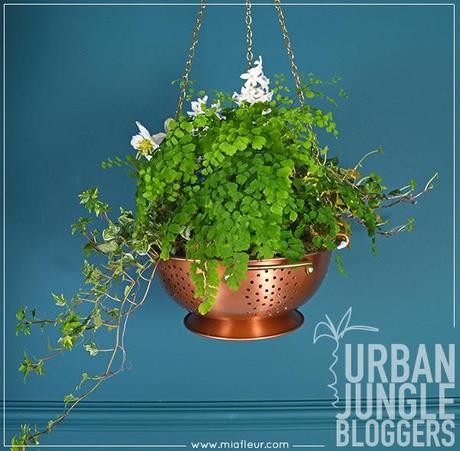 And what a beauty she is hanging above another gorgeous fern and a sprig of blossom, and a lovely way to bring spring indoors and celebrate the passing of winter. I'm looking forward to seeing everybody else's creations and I am sure there will be a lot of impressive macramé from you talented bloggers out there.
Jacqui x
Photography: Amelia Brooks/ Styling: Jacqui and Amelia Brooks
'Urban Jungle Bloggers- Hanging Planters' written by Jacqui Brooks