The latest short story by Steve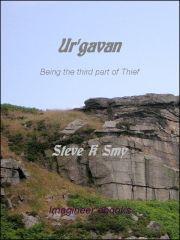 is now available as an ebook!  Ur'gavan is the third in the Thief series.  It is slightly longer than the two previous tales, Thief (Thief 1) and Gabrin: The Avatar (Thief 2).
To quote the blurb:
Continuing on from the end of both "Thief" and "Gabrin: The Avatar", this short story sees the people of the ancient city of Ur'gavan facing grave danger. The one-time boy thief, Tirnam, and his friend Gabrin Parr, must seek to forge a new future, a future of hope. They are the only ones who can achieve the impossible, or can they? The risks are enormous, but the rewards are even greater…
The ebook is available from Smashwords (multiple formats) and Goodreads (ePub only).
To make it absolutely clear as to the correct reading order of these stories, they should be read in strict sequence as numbered!  While there is overlap between Thief and Gabrin: The Avatar, the sequence should be adhered to – it's the way they have been written to be read.
52.057772
1.143786