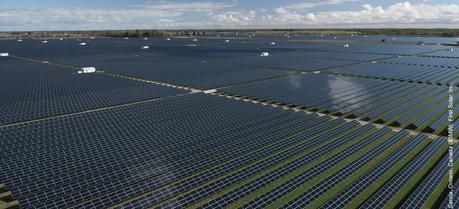 80 MW solar farm in Sarnia, Ontario, Canada. (Credit: First Solar, Inc.)
The University of Queensland has signed a contract with First Solar for the construction of a solar photovoltaic research facility at Gatton. The project will start with the construction of 3.5 MW pilot power plant, followed by two much-larger solar farms that AGL Energy Limited and First Solar are building in western New South Wales: at Nyngan (102 MW) and Broken Hill (53 MW). The overall 155 megawatt, $450 million scheme will create largest solar power plants in Australia.
The 3.275 megawatt pilot plant—including more than 34,000 panels in a ground-mounted array—will be Queensland's largest solar power installation. First Solar will install its advanced, thin-film cadmium telluride PV modules on a 12.6 ha (31.14 ac) former airstrip site at UQ's Gatton campus, 90 km west of Brisbane. The project will be funded by a $40.7 million Australian Federal Government grant.
Under the engineering, procurement and construction contract between UQ and First Solar, electricity is due to start flowing by the end of next year.
UQ's Property and Facilities Division will project manage the delivery of the plant and associated high voltage infrastructure, as well as a research building at Gatton and a data hub control room at the St Lucia Campus. The division also will manage and operate the plant on completion.
The new research facility will augment UQ's 1.22 megawatt photovoltaic array, which was completed at the University's main campus at St Lucia in Brisbane in 2011.
That project remains Australia's largest rooftop solar installation.
The Gatton plant is the pilot for solar farms at Nyngan (102MW) and Broken Hill (53MW). The overall 155 megawatt, $450 million scheme will create Australia's largest solar power plants. About $167 million for the larger project is coming from the Australian Renewable Energy Agency (ARENA); the New South Wales government is contributing $64.9 million.